SaucedHere has collaborated with The Anglers Rest to provide a grocery delivery service for the people of Bamford.
SaucedHere.co.uk is a unique collaboration of Peak District producers, farmers and businesses that work together providing a supermarket style delivery of local products. There are over 1,250 now online from around 40 local producers, all of which can be delivered to the door of holiday cottages, campsites or homes at a time that is convenient to the recipient.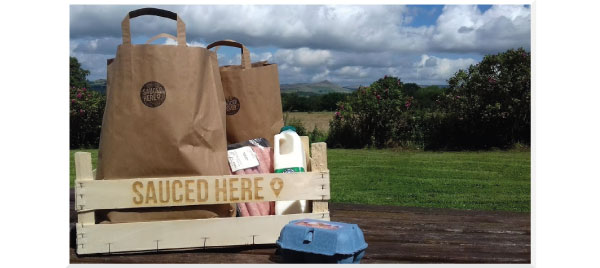 All are now available to collect at The Angler's Rest every Tuesday evening at the new click n' collect station.
The Angler's Rest is pleased to be starting this new service in conjunction with SaucedHere. Click n' collect will be available every Tuesday between 5pm and 8pm, starting at the beginning of August.
The collaboration was established by Luke Osborne who spent over a decade buying from and interacting with some of the best purveyors in the Peak District. Some of Luke's inspiration for the project came from seeing a number of local businesses close down whilst a fleet of supermarket delivery vehicles drove past.