The Kings Head in Pebmarsh was put up for sale by the owners who retired in September 2016, meaning the pub ceased trading. As the only remaining pub in the village, this news hit the local community hard. A number of locals soon rallied together and set up the Friends of the Kings Head group with the objective of re-opening the Kings Head as a community-owned pub.
Within just three months, the local community had pledged £300,000 to turn The Kings Head into a community-owned pub. Shares were available at £50 each.
The Friends of the Kings Head Pebmarsh completed purchase of the pub in June 2017 as a community-owned pub, securing the long term future of the pub as a key community asset for Pebmarsh and local communities. The Kings Head has plans to extend its community offering to include a café and a shop selling essential items.
The pub has had essential repairs and the fully spruced–up pub re-opened earlier in October for drinks and a couple of weeks later for food.
John Flack of Pebmarsh Community Pub Ltd, said "We have realised our dream of purchasing the Kings Head on behalf of the Community, with nearly 400 Shareholders who really care about saving this prized community asset. Our shareholders are in the majority from our local communities, but we have also attracted investment from around the world, mainly from people who have fond memories of their time spent and friends made in Pebmarsh. We hope to see as many shareholders as possible at our Grand Opening Party, and we have also made contact with many of our previous landlords at the Kings Head going as far back as the 1960s who we hope will also attend."
Nicole Hamilton, Head of Frontline at Plunkett Foundation, said: "We're thrilled to see the community taking ownership of The King's Head in Pebmarsh. This will enable them to put their full plans in place and provide an important social space giving the community a sense of place and identity. We wish them every success."
Community Pubs Minister Jake Berry said: "Our Great British pubs are the heart of many communities, providing thousands of jobs and boosting our economy by £21 billion a year. I am delighted to hear that the residents of Pebmarsh have pulled together and demonstrated the community spirit that makes these local pubs such a pleasant place to share a drink."
Jenny Sansom from Power To Change said: "There is amazing community spirit on display here. By making sure pubs host groups and charitable events, people are keeping their local pub open and offering much more than a good pint."
Grand Opening Event
The Grand Opening Event, where all 350 plus shareholders and the local community have been invited, took place on Saturday 11 November at 3pm, with an opening ceremony, street style food and live music. Some photographs of the event can be seen below:

Cutting the ribbon at 3pm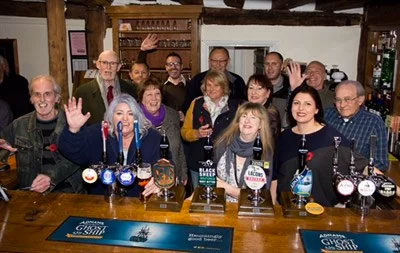 Previous landlords going back to the 1960s with current tenants Debbie and Stuart Fraser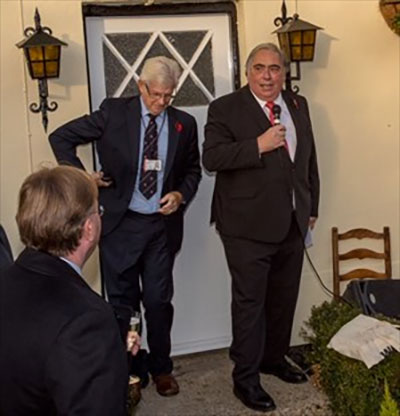 Special guest David Finch, leader of Essex County Council, with John Flack MEP, Chairman of Pebmarsh Community Pub Ltd.