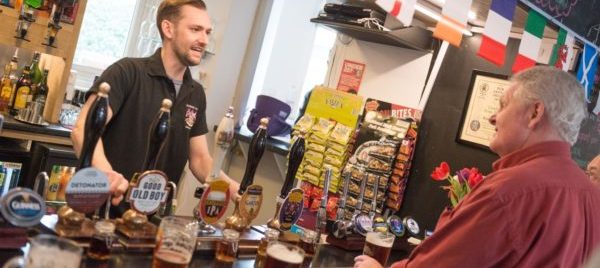 Tomorrow England goes back into lockdown – and though it's not a huge surprise to many, it is not the news any business was hoping for. 
It does at least bring to an end the sometimes confusing system of tiers and regional variations – in England at least – and we know that ultimately the legislation is being introduced with the aim of keeping us all safe. But I also know that for anyone running or working for a business the term 'lockdown' is bound to cause concern and worry. And so I must remind all community businesses that Plunkett remains on hand to offer help and support. One of the key issues that Plunkett has already pressed the government over is help for the community pub sector. This is an area for which I have the greatest concern. During the first lockdown, over two thirds of community pubs remained open to provide essential services – either by selling food and other items, undertaking home deliveries, coordinating trips to health providers, and checking in on the most vulnerable. They managed to remain open, employing local people and volunteers by minimal sales via delivery and take-away – albeit operating at a loss when it would have been more financially sound to close, mothball the business and claim from the job retention scheme. This time around, the proposal, to ban alcohols sales as part of take away services could have limited the further the viability of community pubs to remain open. From our communications with community pubs, the majority would have been forced to close completely this time, leaving vulnerable rural residents without access to services, especially those living alone unable to drive, putting further pressure on any existing volunteer network to co-ordinate support and alternative options from towns and cities. Added to that, we had concerns about the wastage of stock, with many pubs holding beer, cider and other shorter life goods that they will not be able to sell before lockdown commences. Destroying such stock with no compensation will lead to many pubs (including community pubs) and the small number of community-owned breweries suffering further economic losses – for some, it could have been the final straw leading to permanent closures. Of course, all of this also has wider impacts on the local supply chain and broader rural economy.
We raised these issues at the highest level, and together with others, in particular SIBA and our 'More than a Pub' partner CAMRA, the message was received, understood, and I'm delighted to say this policy has now been overturned – so from tomorrow, pubs will be able to sell alcohol to take away from their premises, if ordered in advance by phone, email or post! Plunkett is committed to raising your concerns so please do keep in touch and let us know how we can help.
For communities in Wales the news is a little better, the two week firebreak lockdown comes to an end on 9 November, and although there will still be lighter restrictions, pubs and other businesses will be able to return to something much closer to business as normal. Scotland meanwhile has its new five tier regional restrictions in place designed to give people and businesses a flexible and responsive system.
I welcome the government's extension of the furlough scheme until December, to cover a further lockdown in England. And remember that £1.1bn has been given to Local Authorities for one-off payments to enable them to support businesses, so it is more urgent than ever to remind local councils of the importance of community businesses to local rural economies.
With the help of our long term partners, Plunkett is here to support rural communities – albeit remotely. Although like many others, we will be working from home we remain on hand to support communities as usual. Keep in touch with us about any challenges you are experiencing and let us know what help is most needed, from us, our partners and government. We are here for you, and we will fight for you.
James Alcock
Chief Executive, Plunkett Foundation