Rural Community Business Awards 2023
Plunkett's Rural Community Business Awards celebrate the incredible achievements of community businesses and the dedicated individuals involved in them
On Wednesday 15th November, Plunkett and proud headline sponsor The North Barnes Farm Partnership hosted the 2023 Rural Community Business Awards to celebrate inspiring and outstanding examples of community-owned businesses and the dedicated people involved in them, who have gone above and beyond for their communities over the last year. As community businesses across the UK continue to step up to support their communities as we face a cost of living crisis, the Rural Community Business Awards are an opportunity to give recognition and thanks for their incredible efforts.
The evening, which was hosted by the ever charismatic TV presenter and auctioneer, Charlie Ross, showcased the very best of community-ownerships. Guests  from all over the UK heard about how each of our finalists have been making a difference, before the winners were announced.
Scroll down to see who this year's Rural Community Business Awards winners are…
Introducing the 2023 Rural Community Business Awards winners
Community Contribution Award,
kindly sponsored by Thakeham
We were delighted to announce that the overall winner of the Community Contribution Award, was…
Congratulations also go to Mike Hemsley from Itteringham Village Shop and Sue Sarjent from South Stoke Community Shop, who were recognised as finalists in this special award category.
Watch the Community Contribution Award finalists here.
Congratulations to the following young people who were awarded as Highly Commended in the Young Person Award category, in recognition of their incredible efforts in supporting their local community business:
Watch the Young Person Award finalists videos here.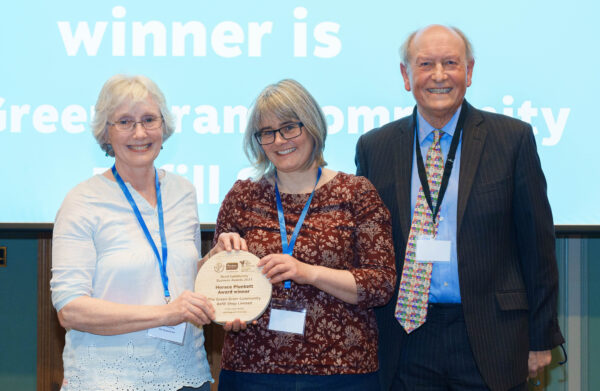 The Horace Plunkett Award
Our final award of the evening was a very special award… The Horace Plunkett Award is a stand-alone award that welcomes nominations from Plunkett staff, trustees and advisors, of community businesses and individuals who they feel encompass all of Plunkett's three i's – inclusivity, innovation and impact.
This year, the winner of the Horace Plunkett Award was The Green Gram in Hampshire, a group that demonstrates outstanding efforts across all areas. In a small community, this community business is leading the way in creating more sustainable and environmentally-friendly ways of shopping and living.
Unlike a lot of the community businesses that Plunkett supports, this group didn't save an asset. Instead they saw a need in the community and created a thriving business that offers a genuine shopping alternative to the local people.
To date, they've saved almost 24,000 single-use plastic containers and more than 548kg of plastic going to landfill. As well as supporting the local community to access 'greener' purchasing, they also work with local schools and businesses to help them reduce their plastic use and their suggestion board invites community engagement, encouraging customers to help drive the future of the business.
It was thanks to all of these efforts, and much more, that lead Plunkett Trustees, Chris Coe and Alex Begg to choose them as the overall winner.
Many congratulations and well done to The Green Gram and all our winners and finalists of this year's Rural Community Business Awards.
Some photos from this years Rural Community Business Awards…
Our sincere thanks to all our generous sponsors for enabling this year's
Rural Community Business Awards to take place
If you'd like to find out how your company could be a part of the 2024 Rural Community Business Awards, please do get in touch with us at events@plunkett.co.uk