The Community Pub Business Support Programme
More than a Pub is a unique three year programme established to help support community ownership of pubs in England and grow the range of services they offer to help local people. Its value is £3.85 million and is jointly funded by the Ministry of Housing, Communities and Local Government and Power to Change.
We're leading this exciting programme and delivering it in collaboration with Co-operative & Community Finance, Keyfund, the Campaign for Real Ale (CAMRA), Co-operative Mutual Solutions, Pub is the Hub and Locality. For the first time it offers the community pub sector access to an end-to-end support programme including capacity building and a finance package made up of loans and grants.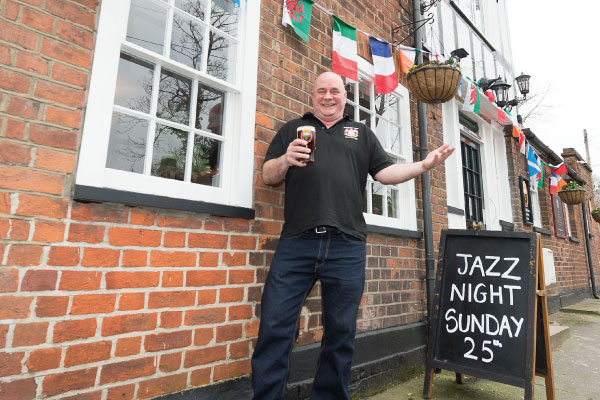 Why community owned pubs?
Over the last 10 years the UK has lost nearly 8000 pubs – around a fifth of all pubs nationally. For many communities, pubs are not just a place to eat and drink; they are central to people's sense of place and identity and they foster belonging and community cohesion. In rural areas pub closures can represent the loss of the last community meeting space and trading facility.
The programme will increase the number of community-owned pubs open and trading and will grow the range of services they offer to help the wider community and address local issues. Services provided by community pubs could include a shop, post office, library, internet café, cash point, police surgeries, lunch clubs for the elderly, prescription services and informal meeting spaces for a range of community activities such as sports teams, choirs, live music and walking groups.
The programme offers funding and support to community groups who wish to take ownership of their local pub and who need help to develop their ideas and plans. We specifically wish to work with groups committed to delivering a pub for the benefit of the wider community.
We have put together a number of Community Pub case studies which provide details on what a community pub is:
We also have a number of Community Pub case study videos which provide further details on what a community pub is:
An extensive support programme is available until March 2019 which includes business development advice and a combined finance package of up to £100,000 made up of loans and grants. This flexible package of support includes:
A helpline
Events and conferences
Workshops
Webinars
Business development advice
Flexible bursary awards of up to £2,500 (inclusive of VAT) to fund pre-feasibility costs such as public consultation and valuations.
Combined loan and grant funding up to £100,000 but not exceeding £50,000 in grant contribution (average grant is expect to be c. £37,500, average loan may be around £42,800). Where the loan and grant combination is required the loan funding is a prerequisite and grant monies will only be released once the loan has been approved with a loan provider. The amounts and ratios available are discretionary and will be assessed against the group's ability to service a loan, meet the eligibility criteria and clearly demonstrate their wider social and economic impact.
There is an expectation that groups will raise some level of community finance which will be taken into account when determining the funding mix.
The programme seeks to work with community groups who are considering taking ownership of their local pub, either through purchase or long-term lease. All applicants for loan and grant funding will be expected to demonstrate clear and significant viable benefits to their local community for their plans, as well as some funding already raised within the community. Community groups will need to meet the following eligibility criteria:
Be based and working in England.
Are looking to take ownership of an existing pub either closed or trading.
Can demonstrate that the pub is for sale or that the current owner is willing to negotiate.
Using, or planning to use a range of agreed appropriate structures, which are Community Benefit Societies, Co-operative Societies, Companies Limited by Guarantee and Community Interest Companies (large membership). Regardless of legal structure, an asset lock, or other significant barrier, must be in place to ensure minimal private benefit (and notably the pub cannot be sold for the private benefit of those involved).
There is open membership, where new members are encouraged to join and be involved as part owners.
Governance is democratic, with a one member, one vote policy.
Can demonstrate commitment to genuine community-ownership and control within the local community.
Can demonstrate that the proposal advances a community and social purpose and provides public benefit, with no or only minimal private benefit involved.
Committed to engaging widely with the local community and surrounding areas if appropriate.
Can demonstrate support from the local community
Surplus income will either be re-invested in the undertakings or used to support the objects of the enterprise in some other way. In this context, the payment of interest on share capital will be seen as an operating cost and not a distribution of surplus and must comply with the Charity Commission's statement on the payment of interest. There will not be any form of profit distribution.
Can demonstrate that some community finance will be or has been raised in support of the project.
Can demonstrate that other local businesses and community groups have been consulted and will not be displaced by the proposed Community Pub Business.
Are planning to offer a range of services which will benefit local people including those who are socially excluded or isolated. These services must be over and above what a normal pub would provide
Please fill out our contact us enquiry form and we'll get back to you as soon as we can, or call the programme advice line for more information on 01993 810730.
We have an applicant guidance document that is recommended viewing when you are thinking of applying for support under the More than a Pub programme:
Please note, that communities outside of England or already trading may still be eligible to receive support from Plunkett Foundation through other funding streams and projects. Please contact us for more information.
"When the members of a community come together for a common cause, without purely financial or commercial motives, when they co-operate and collaborate to save or preserve something that is important and valuable to their community, they can unlock something very powerful"
Julian Ross, The Old Crown
Need some help?
If you are interested in learning more about community business, the support we have available and the work we do supporting rural communities across the UK, please do contact us and we will get back in touch very shortly.