Plunkett Foundation has been inspiring and empowering rural communities to overcome their challenges since
"Our role is simple; we are here to help you create a sustainable initiative that will make your community a better place to live. We call these initiatives community businesses."
Over the past century, Plunkett has enjoyed working with individuals and groups on a wide range of community businesses, including; pubs, shops, cafes, and lots more. Through this, we hear the challenges faced by rural communities and have developed a tried-and-tested model to best support groups in tackling these challenges.
Sir Horace Plunkett was involved with co-operation in a number of high-profile roles. Read about the years leading up to the creation of Plunkett Foundation in 1919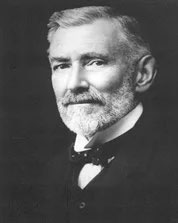 Towards the end of Horace's life, he became concerned about the scale of mergers and acquisitions within his own co-operative movement. He suggested that to be successful, co-operatives needed to remain owned and controlled by the communities in which they were set up to benefit. With that mission in mind, Horace founded the 'Sir Horace Plunkett Foundation' in 1919, later to be renamed 'Plunkett Foundation', signing an indenture on 17 January 1919, becoming the original Trust Deed for the 'Horace Plunkett Foundation' with a first endowment of £5,000.
For the first five years of its existence, interest was used carefully to promote courses and studies on co-operative and rural sociology subjects in England and Ireland
Becoming a clearing-house of information on International Agricultural Co-operation
Plunkett Foundation's remit was always intended to be international. The 1924 Empire Exhibition held at Wembley was the ideal opportunity to prepare a survey of agricultural co-operation and organise a conference of co-operators. The 170 participants of this conference found the experience of meeting and comparing notes new and stimulating. Before parting, they called for a permanent "clearinghouse of information on agricultural co-operation in the English-speaking world" to be established. Having found its purpose and identity, Sir Horace more than doubled his original endowment. It was also at this point that the Foundation, together with the Co-operative Reference Library, relocated from Dublin to No.10 Doughty Street in London, and a permanent staff was appointed.
The Early Years of Plunkett Foundation (1924-1980s)
A lot of groundwork was shaped and established during the period 1924 – 1980s, which enables Plunkett Foundation to carry out the important work supporting community business across the UK today.
Today, we provide practical advice, support and training to help communities establish and run successful community businesses with long-term survival rates. We are currently supporting over 400 communities in our pipeline; find out how we can support your community to establish a community business. If you require support, or would like to find out more about the Foundation's work…