Sharing stories to inspire other community businesses UK-wide
When attempting to illustrate the impact that community-owned business have in the communities we work with across the UK, we often share stories such as this one about the village of Appleton. Their story was used as part of our recent charity auction evening, at Ditchley Park in Oxfordshire with BBC's finest auctioneer Charlie Ross. The event which was raising money to support our work with community business UK-wide was attended by friends, supporters and representatives of this wonderful sector.
Laura Olver, our membership manager and also long-standing committee member at Appleton Community Shop inspired those attending the auction by talking about how their shop means something different to so many people in their community.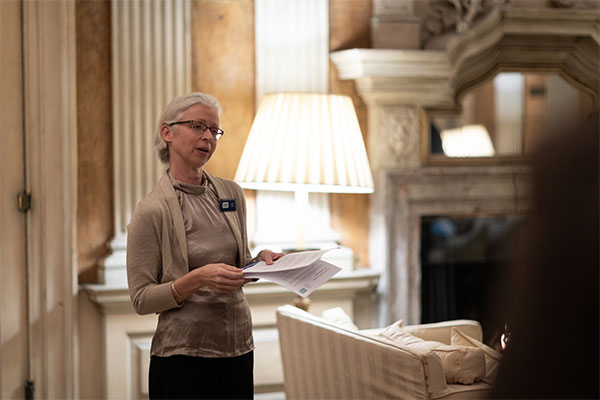 ---
What is considered by some, to be an unattractive 1960s breeze block addition, built on the side of a thatched cottage has been home to the Appleton community store and the hub of the community for more than 22 years.
When you think of warm places, it certainly isn't the first thing that springs to mind, but for many residents of Appleton and many other rural villages, warmth—both in terms of the temperature and the welcome inside those walls—is of the utmost importance.
The shop provides a place of regular companionship for seniors like Janet, who is in her 80s and has dementia. As the primary caregiver for her terminally ill husband, Rachel visits the shop every day while he sleeps to catch up with friends and place the bread order for the next day. It serves as a haven of escape for her. For residents like Beth, who has learning difficulties, the shop is a place of safety and independence where she will always receive assistance with her shopping. Bryony has a medical condition and is not able to drive. She depends on the village for her livelihood and works in the shop three days per week and for new residents like Karen, who volunteers, it's a place to make friends.
70 people volunteer in this store. 20 local food and drink businesses stock the shelves with their products. It serves as a hot pasty stop for passing tradespeople and a place to stop for coffee and cake for walkers and bikers. There is something for everyone in the community, including a book exchange, a place to purchase tickets for local events, a lost and found section, a food bank, and a community board for posting items for sale.
Appleton Community Shop is one of over 400 community shops in the UK. Like many other community businesses, Appleton Shop has benefited from Plunkett's support and guidance, not just when they first started out but also, as in the case of Appleton, 22 years later. The sector has been steadily growing for over two decades not only in number, but also in terms of the impact these small businesses are having in rural areas in the UK. They create jobs, support young people to access training, supply local goods, contribute positively to the environment and make a significant difference to the health and welfare of the community just by being open.
Although opening a community shop presents some challenges, the Plunkett Foundation is here to assist and offer guidance. We can support you as you start your business by providing business support, helping you form a steering committee, finding a premises, hiring people and finding volunteers, applying for grants and funding, and helping you attract customers.
If you are interested in supporting our work, to help create more innovative, inclusive and impactful spaces UK-wide, please get in touch.