Head of Policy and Communications, Chris Cowcher shares his thoughts on the Conservative and Labour conferences.
If I'm honest, the past fortnight went by in a bit of blur. Now I'm back in to somewhat more of a normal weekly routine I wanted to take stock of my experiences at the party conferences. Here's my thoughts on some of the discussions I heard and what they might mean for the community-owned business sector.
To start, and as you might expect to hear, the contrast between my experiences at the Conservative Party and Labour Party conferences; in Manchester and Liverpool respectively, could not have been more different – but also very similar at the same time. Behind the 'razzamatazz' on show in Liverpool, something to be expected given the recent polling positions of the respective parties and under the umbrellas in Manchester, amidst discussions about HS2 there were some very similar conversations being held in the fringe events and in the exhibition spaces.
I heard some great things – there is a clear recognition (in both parties) of the impact of community-led action, and genuine respect for what the community business movement is achieving.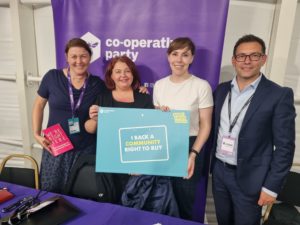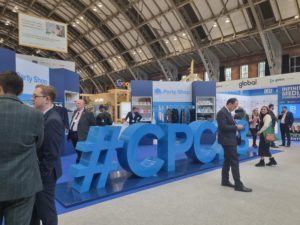 Conservative Party Conference, Manchester
Getting myself going on the Monday morning with the Conservatives, I was delighted to be able to champion the role of community-ownership in the context of future rural communities. In a fringe discussion hosted by the Countryside Alliance and which included the always inspiring Jonty Brunyee (from FarmEd – a place the Plunkett team visited earlier this year) there was full agreement that empowering residents; to run services, grow and supply food, support economic development, run transport and lead on broadband and mobile connection (in some areas) was something that all parties should have an interest in. Secretary of State, Terese Coffey and Buckinghamshire MP, Greg Smith were also on hand to offer insights from their community businesses in their constituencies too.
I also attended the 'Housing Fringe' whilst at the conference, where the panel made the case for a partnership between public and private sector to address the housing crisis we are facing. Claude Hendrickson MBE, from Leeds Community Homes, representing the We're Right Here campaign at the conference and I did however manage to make the case for the third sector too. The role of community land trusts in relation to 'stewardship' and the delivery of community-led and affordable housing, alongside the opportunity to incorporate community businesses into new developments, as a way of integrating residents was seen by those attending as genuine opportunities that need greater attention.
My final takeway from Manchester came from Power to Change's fringe, with research from More in Common highlighted to me the remarkable reach that the Conservative party's 'Levelling Up' slogan has achieved since 2019. There is genuine, wide-spread, grassroots recognition of the phrase – even if the reality of what has been delivered is still perceived to be a little more vague. The point is, the central principle (behind the phrase) that some communities have been 'left behind' for too long and conversely how can this be addressed, is going to remain a focus of debate heading into the next election.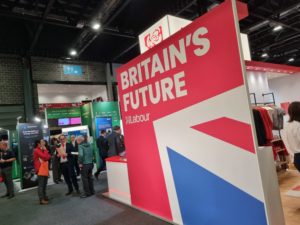 Join the movement
To sum up, there was lots to be optimistic about for the future of our sector. Despite some quite clear challenges (globally, nationally, locally) that we are facing, community businesses continue to do remarkable things for the benefit of their local area. As we head into the next election Plunkett will continue to champion this movement, with two very distinct asks:
To continue protecting businesses and assets that are at risk through community-ownership, we need a Community Right to Buy.
To recognise the potential of community-owned businesses to be a powerful force alongside new housing developments, we need this form of business to be recognised in local plans across the country.
If you are interested in getting involved with our advocacy work, please get in touch with the team at Plunkett via data@plunkett.co.uk.
Or even better still, why not join the movement? For just £20 you can become a supporter member and add your voice in support of a growing network of community businesses.