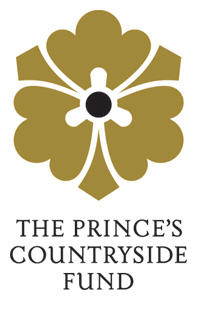 On the 14th August, a very wet day for the season, Aimee Evans from Plunkett and Helen Fagan, grants manager for The Prince's Countryside Fund splashed through the rural roads of Oxfordshire, Northamptonshire and Buckinghamshire to visit three community shops.
The Prince's Countryside Fund have supported Plunkett since 2012 and are well aware of rural issues affecting communities and the action needed to seek solutions – as demonstrated by the fabulous Village Survival Guide. Through Plunkett, and the funding from The Prince's Countryside Fund much of the funded support to date for community businesses has been allocated to community shops and so it seemed fitting to pay a visit to a couple of shop groups to find out more.
Co-incidentally, the shops visited were located next to/in village halls and alongside amazing playgrounds. This was useful to be able to compare and contrast, although it was far too wet to give the swings and slide a proper go!
It was late afternoon in the summer holidays, when we visited to meet with Kate, and volunteers behind the counter at the small shop at Islip, and it was buzzing with activity. Customers were popping in and out of the shop and several members of the management committee were on hand unloading piles of stock from a small van and stacking the newly arrived drinks and sweets into the stockroom (a best seller in the shop.)
As we moved out of the shop into the stock room, Kate told us about how the support from a Plunkett adviser had helped them with a different perspective about their needs for the future. Their adviser, David, suggested recruiting a stock keeper for ordering and topping up products which could be complemented by the new EPOS system set up by one of the management committee members. The new EPOS system has already made re-ordering a lot simpler and means now this can even be done remotely.
Kate mentioned the value of networking with other neighbouring community shops. Their local Rural Community Council, Community First Oxfordshire, organises meetings to bring these community shop businesses together.
Like other shops we had visited, local produce from the 'pick your own' and other local suppliers takes pride of place and is a popular feature in the shop alongside everyday essentials.
Kate told us that the shop is doing lots to attract volunteers, but like many other community shops, they are finding this a challenge. The 3 rings rota system they use, Kate says, is brilliant and the training sheets and handbooks all help to give volunteers confidence. The management committee get on well and like many, are hands on in the shop to keep it going.
"It's easy to see why this place has such a vibrant presence in the community of Islip, not only is it a shop, but it's a hub and meeting place, buzzing with energy (and I don't think it's just the sweets.)"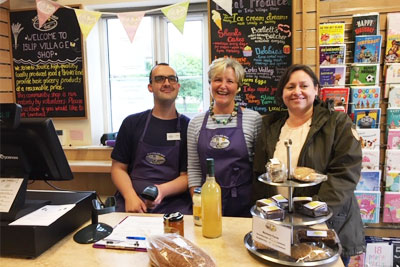 Displaying the local delights at Islip Village Shop
"It is too easy to get absorbed with the day-to-day running of shop but the time spent with our Plunkett adviser allowed us to stand back and consider more strategic issues for the future which was very helpful."

– said Kate