Cheers to the Success of Community Businesses in the East of England.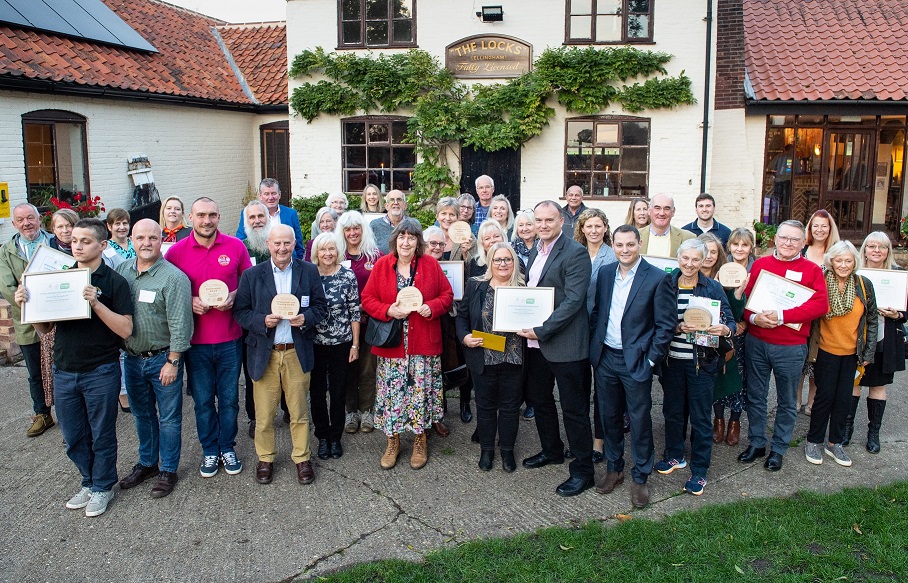 Six community-owned businesses are celebrating awards success after they were announced as 'winners' at the Denbury Plunkett Communities Awards.
The success of community-owned businesses across the East of England was celebrated at a packed Locks Inn, a community-owned pub in Geldeston (Norfolk), on Tuesday 18 October, as people attended the first ever Denbury Plunkett Communities Awards.
Amongst the cheers and raising of glasses in the pub, six businesses, including three community shops and three community pubs, were announced as Award Winners at the event which rewarded community-owned businesses in the East of England that go the extra mile to help their communities and those in need.
Joshua Hopkins, of the Denbury Charitable Fund and Land Director at Denbury Homes, said: "We are really proud to have supported these awards as part of our long-standing partnership with the Plunkett Foundation. It was a fantastic opportunity to celebrate a diverse range of projects from across our region and we hope the Award Winners will now help to inspire new groups to follow their example in their community. We offer our congratulations to all the businesses that applied to the awards, community-owned businesses are clearly flourishing in the East of England." 
Community-owned businesses help their rural communities to thrive. They bring people together to provide local jobs, training and volunteering opportunities, they support those on low incomes or unable to travel, they help reduce loneliness and isolation, they provide access to services locally and improve the general wellbeing of all.
The six award categories and the winners of The Denbury Plunkett Communities Awards are as follows:
Community Contribution Award: Camilla Keeling from Rattlesden & District Community Shop, Suffolk
Employment and Training Award: The Lion Corner Community Shop, Essex
Environment Award: The Locks Inn, Geldeston, Norfolk
Community Food Award: Itteringham Village Shop, Norfolk
Technology Award: The White Swan, Gressenhall, Norfolk
Volunteering Award: The Ship Inn, Great Holland, Essex
Each award winner was presented with a commemorative trophy and a cheque for £150. They will also all go forward to the national Rural Community Business Awards – organised by the Plunkett Foundation – for community-owned businesses throughout the UK.
James Alcock, Chief Executive at Plunkett Foundation, said: "The Denbury Homes – Plunkett Foundation – partnership has been a huge success for community businesses across Norfolk, Suffolk, Cambridgeshire and Essex. Having worked together over the past 2 years Plunkett has been able to offer advice, support and funding to groups thanks to the support of Denbury. It was therefore fantastic to be able to hold our first ever awards event together and celebrate the flourishing businesses in the region. Community businesses are truly remarkable in what they do, trading successfully for the benefit of their community in these hard times – long may that continue."