The Mayor of Cambridgeshire and Peterborough Combined Authority, Dr Nik Johnson, visited Houghton and Wyton community shop with the Plunkett Foundation on Friday 22 September 2023.
Plunkett Foundation and representatives from the Combined Authority visited the community-owned shop, in Houghton, to promote a new support for community projects in Cambridgeshire and Peterborough through the areas Market Towns Programme. The support available includes expert advice, as well as small and large grants for community groups looking to set up a community-owned business, that could include retail, cafés, pubs, meeting rooms, co-working facilities, allotments, and accessible green spaces.
The visit, which was also attended by Cambridgeshire ACRE, was hosted by members of the Houghton and Wyton Shop management committee, staff, and volunteers, and gave the Mayor, Dr Nik Johnson an overview of the business and the services it provides. The business operates for the benefit of the community and uses any excess surpluses it makes to support community groups and a 'Community Fund' set up for the benefit of local residents. The team also provided an overview of their six-year history, and paid testament to all those who have been involved with the business to date – including the 340 shareholders, who backed the project in the first place.
Plunkett Foundation has supported the group in Houghton and Wyton from their earliest stages; providing advice, guidance, and templates, to help them to move their project from concept stage to being an open and trading business. The group also utilised Plunkett's model rules for Community Benefit Societies, which helped the group to establish a formal legal entity which is registered with the Financial Conduct Authority. It is this support which is now being made available to groups across Cambridgeshire and Peterborough as part of a new partnership between the Plunkett Foundation and the Combined Authority.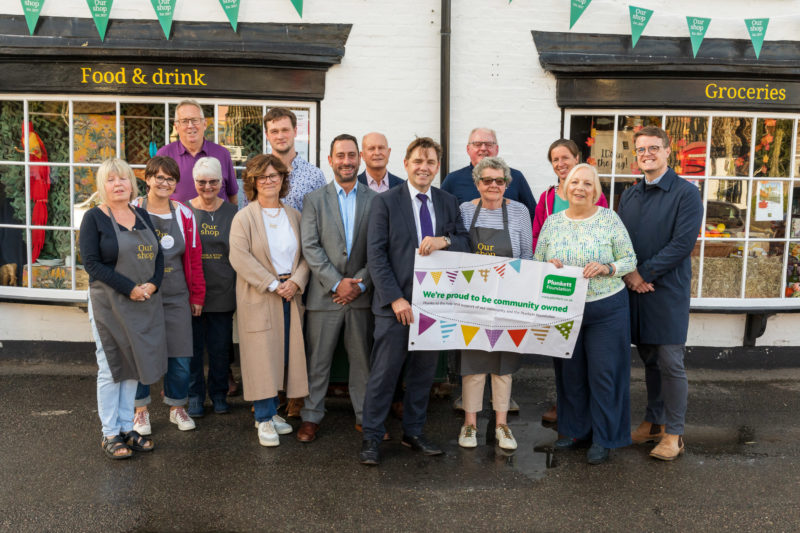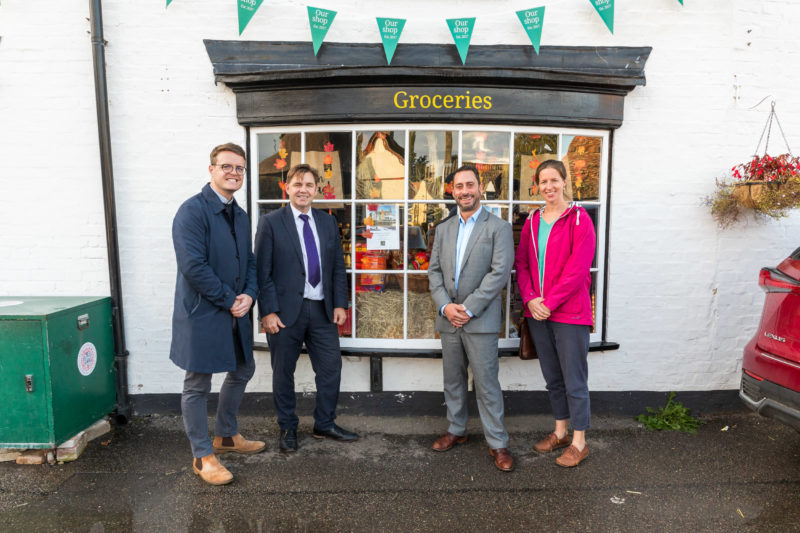 Susie Middleton, Project Manager at the Plunkett Foundation said "We are delighted to be working with the Combined Authority on this new programme of support. To be able to host the Mayor Nik Johnson at such an inspiring shop, which really shows how community-ownership can work for the benefit of local people was just fantastic. We are looking forward to seeing the community business movement grow across the combined authority area and will continue to champion examples of best practice, such as Houghton and Wyton, for others to learn from as they embark on their community business journey."
Ann Utley from Houghton and Wyton shop said "Everyone involved with the shop is so proud of what we have achieved, since the business opened in 2017. It truly is the heart of our village, and we aim to make sure that we offer something for everyone living locally. The staff and volunteers do such a fantastic job, and it was a real pleasure to be able to show Mayor Nik Johnson how we have protected this vital asset through community-ownership. It will benefit many more generations to come."
Domenico Cirillo, Business Programmes & Business Board Manager at the Combined Authority said "When we launched this programme, we saw the huge potential and real opportunity to work with Plunkett Foundation to support our rural hinterland and market towns, especially as they evolve to meet modern challenges. Seeing how the community-ownership model has helped to create such a sustainable business in Houghton and Wyton is encouraging and something we want to see replicated across the authority area in future."
How are Combined Authority and Plunkett Foundation working together?
The Combined Authority commissioned Plunkett Foundation to help community groups across the region take ownership and operation of local pubs and assets that are vacant or at risk of closure, revitalising assets whilst protecting and providing key local amenities that will benefit the community.
The Combined Authority's Market Towns Programme Phase 2 emerged in continuation of the Combined Authority's work to tackle the long-standing challenges surrounding market towns, with a particular focus on strengthening local communities and supporting the social enterprise ecosystem in the market towns and associated villages.
Phase 2 has three grant programmes – geared to supporting:
Community ownership of local businesses, (2) Social enterprise hubs, and (3) a STEM exhibition programme. The work in partnership with the Plunkett Foundation supports Social Enterprise in Towns and Villages.
The community business model will be used to create community hubs that could include retail, cafés, meeting rooms, co-working facilities, allotments, and accessible green spaces, among others.
The Plunkett Foundation has over 100 years of experience in supporting and establishing community businesses across the UK.  A long-term survival rate of 95% proves that this is a resilient business model to provide and retain vital local services that bring a community together.