Celebrate 'More than a Pint' on National Beer Day at Your Local Community Pub
To celebrate the UK's National Beer Day (Tuesday 15 June 2021) the Plunkett Foundation and the West Midlands Combined Authority (WMCA) are encouraging people across the West Midlands to raise a toast to their favourite local on National Beer Day and celebrate the vital role it plays at the heart of the community.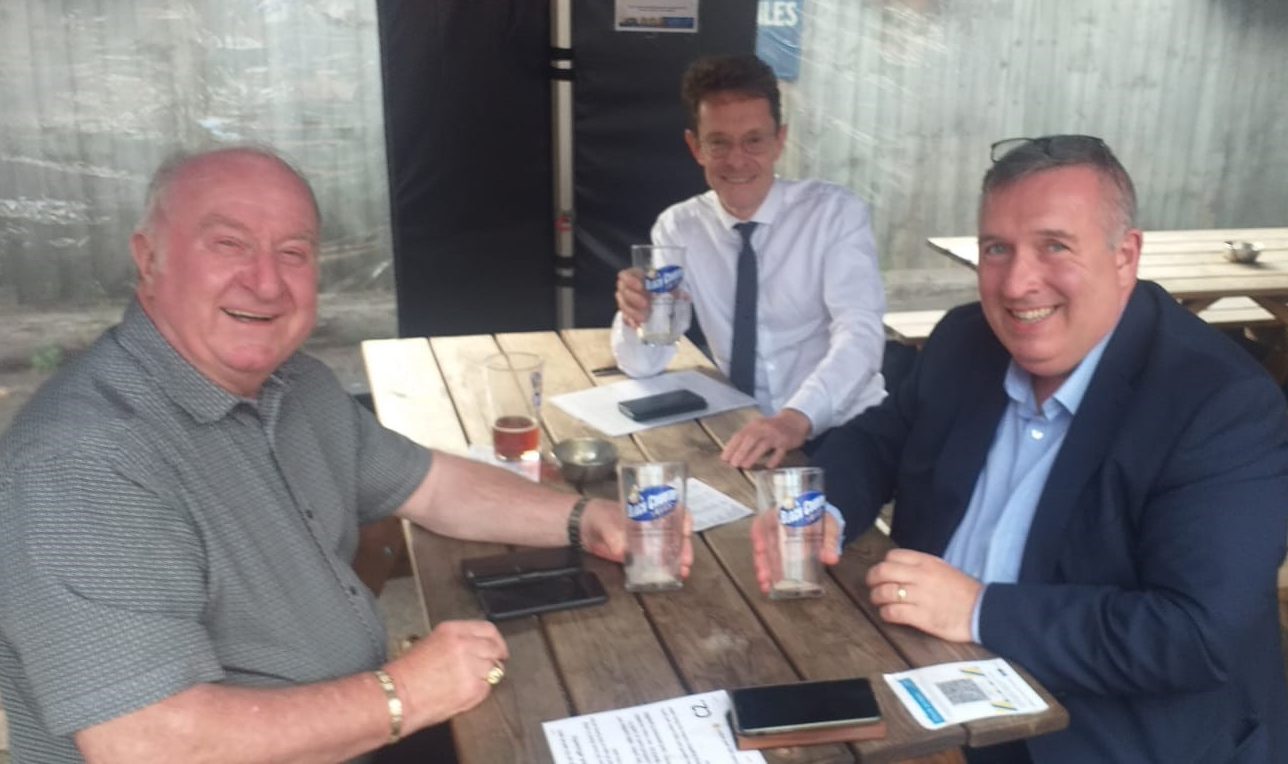 West Midlands' Mayor Andy Street enjoys a pint in Walsall with Council leader Mike Bird and Deputy Leader Adrian Andrew.
Even in those communities where the pub has closed or is under threat, National Beer Day offers an opportunity to think about the role a community can play in saving their local pub. Community-ownership could be the solution and across the UK there are 150 community-owned pubs, which are run by the community for their communities.
Community-owned pubs are more than a pub: they offer café facilities, post office services, daily essential goods, provide much-needed local jobs and training, support local businesses and offer a place that combats loneliness, isolation and a huge dose of general wellbeing too.
In the West Midlands since 2010 over 539 pubs have sadly been lost. When a local pub disappears so often does the heart of an area, losing an iconic place that has the potential to be much more than a pub.
On National Beer Day, Plunkett Foundation is calling for local groups in the West Midlands to step forward to help fight the closure of their local pubs. Partnering with the West Midlands Combined Authority (WMCA) the charity is offering free expert advice and funding to help establish community owned businesses and save pubs. To help anyone interested in saving their local pub to discover more about how to run a community business and their benefits, the partnership is organising a free, online workshop on Monday 5 July 2021. This short webinar is free to attend and booked via www.plunkett.co.uk/training.
Commenting Chris Cowcher, Head of Policy at the Plunkett Foundation, said: "For many, pubs are the heart of their community and that's why we're proud to be raising a glass to businesses everywhere on National Beer Day! We also want to help more communities to understand that they can play a role in the future of these local businesses, through a community-ownership approach. A pub owned by the community, run by the community, for the community so that we can all continue to enjoy more than a pint.
Andy Street, the Mayor of the West Midlands, said: "Pubs play a critical role in local communities right across the West Midlands, but they are facing an incredibly challenging time. The fact we've lost more than 500 local pubs over the last decade shows the threat the industry is facing, and that has only been exacerbated by the coronavirus pandemic. That's why I am so keen to work with the Plunkett Foundation to help save West Midlands' pubs using a community-ownership model.
"On National Beer Day we're asking people across the region to support their local pub, not just by raising a pint of their choice but by also thinking about community-ownership and the benefits that could have. We know pubs are under threat, but through this scheme people have the power to help these key community assets not just survive, but thrive as well."
Taking ownership of a local pub ensures that it can continue to thrive for everyone. Any group thinking of saving their local pub can access free advice from the Plunkett Foundation on 01993 810 730 or visit www.plunkett.co.uk