Chris Cowcher, Head of Policy reflects on yesterday's Autumn Statement.
We recognise that the Chancellor's Autumn Statement was delivered against the backdrop of multiple crises impacting the global community right now. It was also never going to be "give away" budget.
However, responding to the challenges we are facing right now is a matter of urgency. Has the chancellor gone far enough to support those businesses in our sector that are most in need right now? It certainly would appear that the big ticket items around tax are "for the future" but the reality is that we had hoped for a response to the crises faced today.
Even before yesterday's announcement, our Policy and Research Team has identified that around 1 in 5 community-owned businesses supported by Plunkett are 'vulnerable' as a result of the financial pressures they currently face. Costs are rising across the board for energy, wholesale goods, and staff wages. The knock-on effects such as a fall in custom are deeply concerning for many.
The stark news that accompanied yesterday's statement from the Chancellor, that living standards are going to drop to levels not seen since the 1950s, has hit these small businesses hard, given the enormous impact it will have on their staff, volunteers, customers and all members of their community.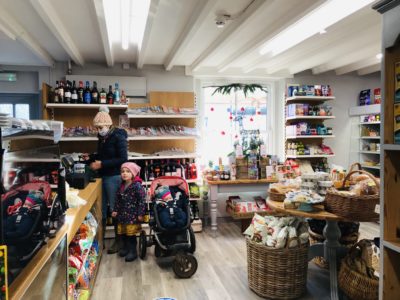 Community businesses need support now:
Community-owned businesses are set up to meet locally-identified needs and deliver an abundance of social impact in their local area. As a result of the financial pressures they face the critical services they are delivering, the very reason many exist in the first place, are under threat of having to be reduced or withdrawn all together. We are even hearing from some groups that long-term or even permanent closure is being considered as they respond to this moment. The idea that simple necessities, such as access to affordable food in a local shop, or to a warm community space to sit for a chat, might be taken from people at the time they need it most is unthinkable.
The fact is that in order to keep providing these vital services, community businesses need support right now, and we do not feel that the Chancellor offered the kind of reassurances we had hoped to see. In a survey of Plunkett members this week, 79% felt that the Government was not doing enough to help small rural businesses. Whilst not all support will come from the Government, the Autumn Statement sets the tone for the weeks, months and years ahead. However, the details needed to enable businesses to plan for the same period were lacking yesterday.
Our sector needs:
Dedicated funding for small businesses to support retro-fit insulation and energy efficiency action
Confirmation of the long term future of the Community Ownership Fund
Clarity on the details of the energy bill relief support for businesses beyond March 2023
Please keep in touch:
Plunkett is incredibly proud of all community-owned businesses UK-wide for their commitment to support their communities right now. We want these businesses to know that we appreciate how hard things are right now and we are here for you. Plunkett will continue to represent your interests and raise your experiences with Government. Please use our support and advice services to help your business right now. Keep in touch via info@plunkett.co.uk or 01993 630022.
If you want to find out more about our policy, advocacy and external affairs work please visit this page on our website. Or alternatively get in touch with Chris via chris.cowcher@plunkett.co.uk.