Rural communities, across England, seeking to safeguard essential local services will benefit from new funding awarded to the Plunkett Foundation by The National Lottery Community Fund, the largest funder of community activity in the UK.
Plunkett Foundation, a charity which supports people in rural areas to set up and run resilient, thriving and inclusive community-owned businesses, will receive £492k from The National Lottery Community Fund over three years to provide essential and expert community business support and advice to community groups.
The funding recognises the increased need for support due to the unprecedented challenges facing rural communities, including those struggling to recover from the impacts of the pandemic, but also the challenges brought about by the cost of living and energy price crisis. It will also support Plunkett to re-launch a new-look support service which focuses on creating inclusive, innovative and impactful spaces in rural areas in the future.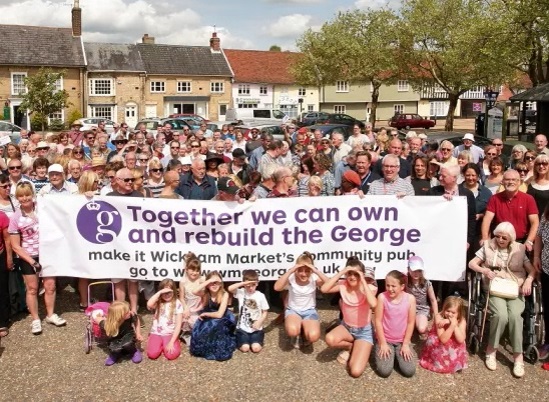 With Plunkett's support, communities are taking ownership of the services and places that really make a difference to them. Through working together they can safeguard a local shop, pub or community hub that provides access to essential goods, provides jobs and training opportunities, helps the environment and improves the wellbeing of all, especially the vulnerable.
James Alcock, Chief Executive of the Plunkett Foundation, said: "The support from The National Lottery Community Fund comes at a critical time for rural communities – with many on the brink of losing a much-loved and valued service. This support recognises the long-term value of the help we offer to the 619 existing community-owned businesses in England, but it will also enable us to support over 200 new communities each year that contact us for our advice and expertise."
Plunkett's support service helps community groups to obtain professional advice from sector experts, at the time when they need help. Community businesses supported by Plunkett have a phenomenal 96% long-term success rate, which is a testament to their dedicated volunteers and staff and the expertise they can gain from Plunkett's specialist advisers.
James Alcock continues: "Community-owned businesses are on the frontline supporting local residents. Their activities ensure that the most vulnerable people are able to access the services that they need, when they need them. Thanks to National Lottery players, we can continue our work to help inclusive, innovative and impactful community businesses and to see the network grow in future."
Plunkett Foundation launched a new 5 year strategy this year, aiming to grow the number of rural community-owned businesses by 2026. These businesses not only protect and enhance local services; they create employment and training opportunities, provide social meeting places, host banking facilities and make a positive contribution to the climate through environmentally friendly activities. Through growing the network Plunkett believes that community-owned businesses will help more people to live and work in rural areas and create greater opportunities for all.
Emma Corrigan, England Director, The National Lottery Community Fund, said: "We are delighted to be supporting the Plunkett Foundation to enable people in rural areas to set up and run resilient and inclusive community-owned businesses. It's fantastic to see local people taking on this opportunity to form businesses that protect and enhance important places, such as shops and pubs through to woodlands, farms and fisheries."
"Thanks to National Lottery players, over £30 million is raised for good causes across the UK every week, and we are proud this money with help rural towns and villages to thrive, boosting employment, training and volunteering opportunities, as well as addressing isolation and loneliness."
If you are interested to know more about community-ownership, or need advice and support for a project in your community please visit our How We Help web page or call us on: 01993 630022.