Plunkett responds to the announcement that a Community Wealth Fund will be included in an expanded Dormant Assets scheme
Last October, Plunkett Foundation along with 3,300 other organisations and individuals submitted written evidence to the Government consultation on the future of the Dormant Assets Scheme. Since its inception over a decade ago £892 million has been unlocked from dormant assets to be used for social and environmental initiatives across the UK.
The consultation held last year considered how a further £880 million, that is set to be unlocked by the Dormant Assets Act 2022, should be used with specific consideration given to whether the original causes remained relevant or should be expanded. These causes are youth, financial inclusion and social investment wholesalers. The expansion proposed was the inclusion of community wealth funds.
Plunkett's full response can be read via this link, however in short our submission included:
Continued support for the use of social investment wholesalers, with specific reference to the development of a Community Enterprise Growth Plan
Also as a member of the Community Wealth Fund Alliance we also backed the inclusion of community wealth funds, making clear that there needed to be rural beneficiaries from such a scheme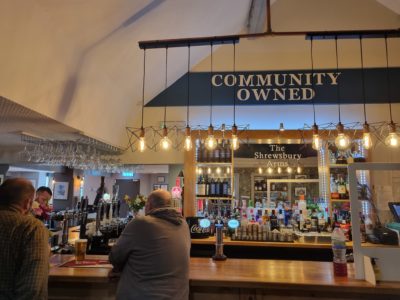 Government's response
Both of these causes are referenced in the Government's response published today. Furthermore the needs of rural areas have been recognised in the consultation too, with the response referencing that the need to address "diverse needs of rural communities."
Of significance to community businesses was an additional announcement that £31 million of immediate funding from dormant assets to help social enterprises and charities with the rising cost of energy and increased demands as a result of the wider cost of living crisis. This will be provided in the form of no-interest loans and will be distribute by social investors Access and Big Society Capital.
Plunkett welcomed the response published today and Chris Cowcher, Head of Policy and Communications said; "Today's announcement is great news for community-owned businesses nationwide. Firstly the crisis support being offered in response to the cost of living and energy price crises could not have come at a better time. Longer term, we also are delighted to see that social investment, a critical form of finance for many of the groups we support, will continue to benefit from Dormant Assets funding. Furthermore the commitment to long-term community wealth building, through dedicated wealth funds can provide stable foundations for impactful action in areas where social capital is currently lacking."
Chris added; "Whilst our additional calls for an expanded Community Ownership Fund and investment in community shares were not included in the consultation response there is clearly a huge opportunity for the community-ownership sector to benefit from today's announcements."
What next?
Following today's announcement the government will seek to name youth, financial inclusion, social investment wholesalers, and community wealth funds as the purposes of the English portion of dormant assets funding in secondary legislation. The government will also continue to consider the impacts of this work on individuals with protected characteristics. The department responsible for Dormant Assets, DCMS is also undertaking an internal review of the governance of the Scheme to ensure, following its expansion, that it is appropriate, transparent, and robust. Finally, a statement of intent will be published this year to announce the proportions of funding this government intends to allocate to the four causes.
Whilst the government has already defined community wealth funds as "funds which give long-term financial support (whether directly or indirectly) for the provision of local amenities or social infrastructure" there will be a further consultation on the design of this new initiative. Plunkett Foundation intends to contribute to these consultations and will seek the views of our membership to form any representations shared.
If you want to find out more about our policy, advocacy and external affairs work please visit this page on our website. Or alternatively get in touch with Chris via chris.cowcher@plunkett.co.uk.