Plunkett Foundation Impact Report reveals that 23 new community businesses opened in 2022
736 community-owned businesses are now trading in the UK with 96% long term success rates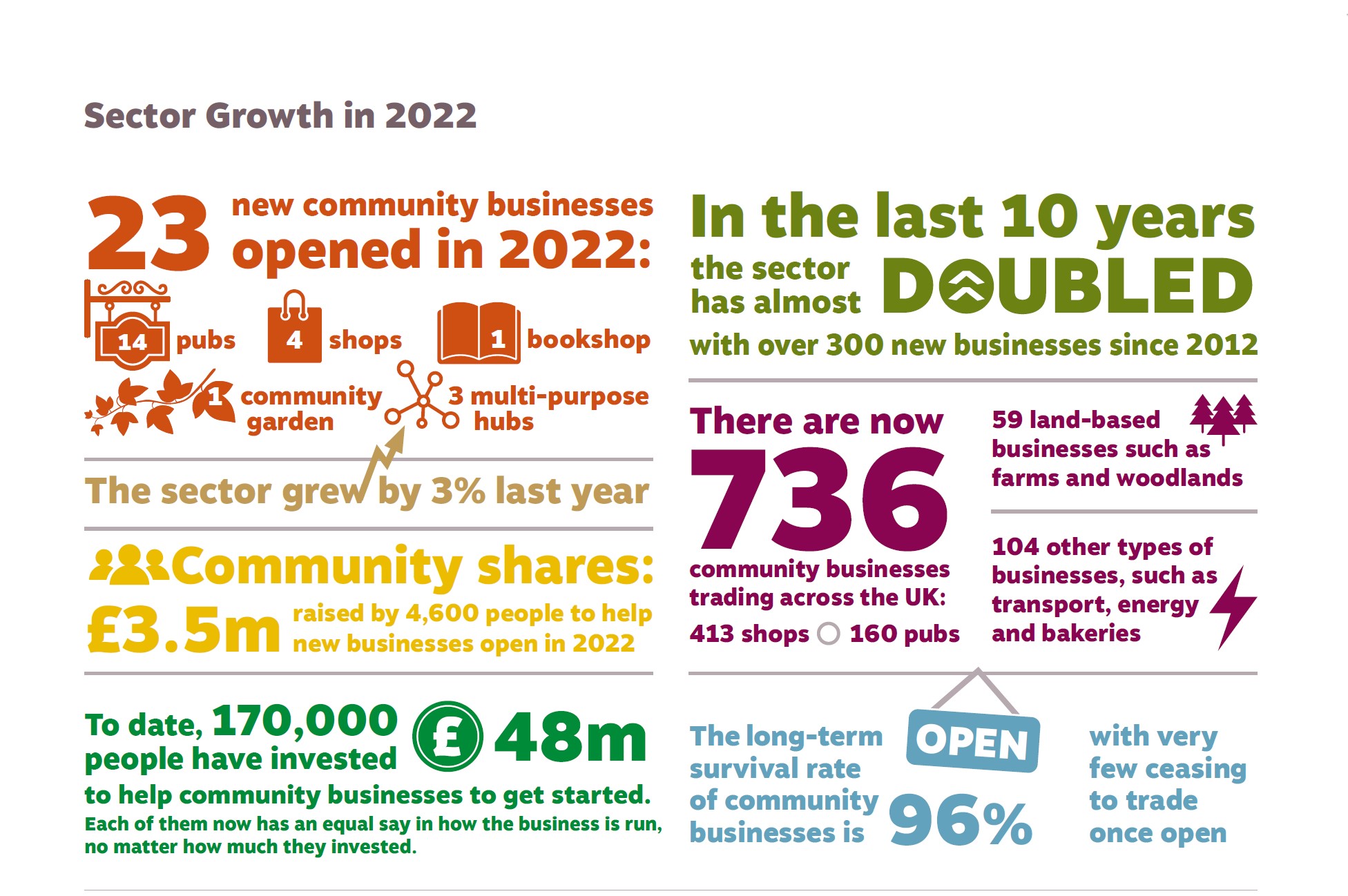 A sector that is backed by thousands of people
The 23 businesses to open last year were impressively backed by 4,600 people who invested £3.5 million in community shares. Community shares are a democratic form of finance often used to bring assets in to community control. The figures from 2022 brings the total amount raised through community shares – for all community businesses supported by Plunkett – to an incredible £48 million, from 170,000 investors. A real testament to the strength of community power.
It's not just new businesses that benefitted from Plunkett's services either. In times of energy and cost of living crises, Plunkett support is essential for motivating and engaging trading businesses and in 2022 we were proud to:
Respond to 412 enquiries from various community businesses seeking assistance, including198 enquiries from communities looking to set up a new community business
Deliver a total of 323 days of one to one support, including
69 days of business and financial planning, 53 days setting up legal structures and good governance, 46 days of action planning and 23 days on finding investment through community shares
Run online peer network groups for 2,700 people
Deliver 63 training and peer-networking sessions that helped 1,300 people.
Maintain social media networks with 14,000 members
Lead a movement of 368 Plunkett members, who contribute to our policy and representation work, as well as benefit from discounted suppliers and business health-checks.
James Alcock, CEO of Plunkett said: "This report, which shows a growing sector that Plunkett proudly represents, is a fantastic demonstration of the innovative, impactful and inclusive nature of community businesses. To see continued sector growth in times of crisis shows the importance that local people continue to place on running services which benefit their community. The community-ownership model has proven to be robust, with long-term success rate. It also continues to evolve and we are pleased to include in the report examples in the report of how businesses are truly having an impact in their community.

We are incredibly grateful for the partners and collaborators that worked with us last year, to make sure that businesses at all stages of their journey were able to access the support they needed, at the time they needed it most. The introduction to our Impact Report from Saga's Euan Sutherland is a fantastic recognition of our growing movement.

Our new 5 year strategy, launched last year, aims to support a 20% sector by 2026. We look forward to using our annual impact report to bring you on this journey and continue to make the case for community businesses UK-wide."
A decade of growth
The report reveals that 2022 saw continuity in the sector's consistent trend of growth, with a 3% rise in the total number of community businesses that have been supported by Plunkett. In the last decade, the sector has almost doubled in size with more than 300 new businesses starting up since 2012. Today, Plunkett represents over 700 community businesses throughout the UK, from shops and pubs through to woodlands, farms and fisheries.
If you are interested in working with Plunkett and helping us to continue growing the impact of community businesses UK-wide then please read the "Support Us" pages on our website to find our more.
If you would like to join our movement today then please consider becoming a Plunkett member and join a network of supporters and businesses that all subscribe to a vision of creating innovative, impactful and inclusive spaces through community businesses. More information can be found here.