Plunkett Foundation's 2021 Impact Report reveals that the number of community businesses has continued to rise, in spite of the disruption of the pandemic. The report also shows that more people than ever before are now interested in setting up a community business, with over 300 communities across the UK getting in touch with Plunkett for start-up support last year.
In support of the current sector, Plunkett also responded to a further 200 enquiries from existing community businesses, requesting support with a range of activities such as diversification, volunteer recruitment and future proofing.
A growing sector
It is clear that the community business movement is growing, with the number of community businesses increasing by 3% in 2021, resulting in 840 businesses trading across the UK. To support the 27 businesses opening in 2021, 6,300 people raised around £3.4m in community shares.
Public interest and support for community ownership is also growing, evident in the number of community businesses featured in the national press, as well the 18% increase in Plunkett's membership. The sharp increase that we saw in 2020 in enquiries about setting up a new community business was maintained in 2021, with 26% more groups looking to start a new project in 2021 compared to 2019 prior to the pandemic.
The increase in interest in businesses that are community owned is motivated by a growing awareness of the benefits of the community business model, particularly in response to a crisis – from the closure of the local pub, to the insecurity of global food supply chains. Where there are crises, there are also opportunities for change. Since the start of the pandemic, we have seen more communities coming forward wanting to reclaim their local businesses for social, economic and environmental benefit. With a cost of living crisis on the horizon due to rising fuel and food prices, alongside the ongoing economic effects of the pandemic and the threat of climate change and biodiversity loss, community businesses are a real lifeline, particularly in rural areas.
The power of community ownership
Plunkett's Impact Report demonstrates how, by helping people to set up businesses that are run by and for local people, we can harness the power of community ownership to tackles these crises and build a fairer economy that benefits people and the planet. The support we provided to 215 community businesses in 2021 has benefitted an estimated 325,000 people. This support amounted to 344 days of specialist adviser help, action planning, mentoring and business healthchecks. A further 700 individuals benefitted from the 100 training events we ran last year.
Getting support in place at the right time is essential for ensuring community businesses can set up successfully. An evaluation of the More than a Pub (MTAP) programme, which came to an end in 2021, has shown that the chances of community pubs reaching trading status increase dramatically, from 1 in 10 for all community pub projects to 1 in 3 for projects that receive adviser support or a bursary. For those 19 groups who received funding, including a £50,000 loan and £50,000 grant from MTAP, 100% were able to bring their pub into community ownership.
As the only UK-wide organisation supporting community businesses at every stage of their development, Plunkett will continue to provide access to practical advice, support, and funding for community businesses, and advocate for better community rights legislation, improved funding and policies to help these businesses get set up.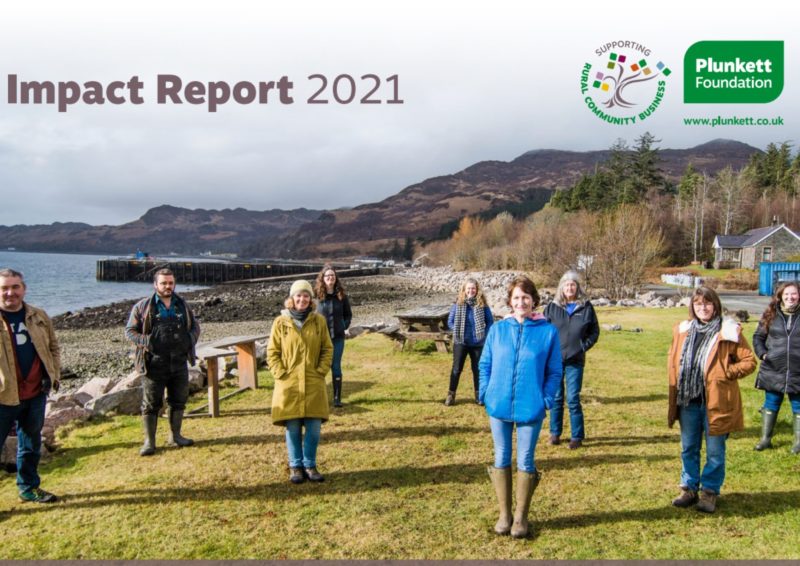 The Plunkett Foundation 2021 Impact Report highlights:
Over 300 people contacted Plunkett in 2021 about setting up a new community business
215 communities were supported by Plunkett, for help setting up a new community business or improving the operation of an existing one
An estimated 300,000 people benefitted from the groups supported in 2021 – amongst these were 18,000 vulnerable people
£3.4m was raised in community shares to open 27 new community businesses, by 6,300 people
The community business sector remains strong in spite of the ongoing disruption due to the pandemic in 2021, growing by 3%. Interest in starting a new community business has grown since the beginning of the pandemic, with 26% more people coming forward with a new project idea.
Plunkett's More than a Pub Programme, funded by Power to Change, drastically improved the chances of success for community pub projects. Just 1 in 10 community pubs reach trading status, which becomes 1 in 3 when supported with an adviser or bursary. 100% of communities receiving the full loan and grant package have taken ownership of their pub.
James Alcock, Plunkett's chief executive, said: "The unprecedented and well-documented challenges of the past 2 years make the success stories (included in this report) from community-owned businesses all the more remarkable.

We are so proud to have played our part in supporting the sector, but moreover we are in awe at the dedication, commitment and perseverance of every single person involved with community businesses. Serving and supporting their local community at a time of crisis."
Read a full copy of the report here.