Susie Middleton, Project Manager shares an update on Plunkett's ambition to see more young people involved with community businesses UK-wide.
It's been fantastic to have had the opportunity to join some of the events organised as part of #IWillWeek2022 and hear directly from some of the many young people taking part in different forms social action across England. We know of many community businesses where young people are already sharing and building their skills and having a positive impact on their communities.
Last week at Plunkett's Rural Community Business Awards we were lucky enough hear the inspiring stories and recognise the achievements of three such young people and it's got us thinking more about the importance of community businesses being seen as enabling environments in order to attract more young people to get involved in them, giving them the opportunity to take part in social action whilst increasing their knowledge and experience for the future. And at a time when many community businesses are struggling to recruit volunteers and are thinking about who will ensure the impact they have on their communities continues to happen into the future, who better to get involved and bring their new ideas and energy, than local young people.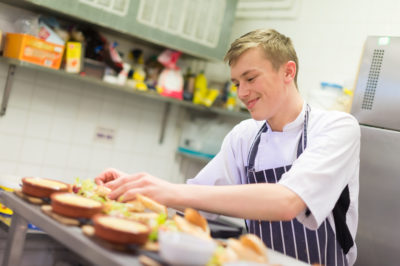 It's clear from conversations we're having with young people already working with community businesses as well as from the stories being told by many of the speakers at #IWill Week, that embedding and involving young people in every aspect of the business, and enabling them to make their voices heard right across it is hugely important. They want the opportunity to be involved in the conversations that shape what the business looks like as a way to ensure that thinking transforms from "if we build it, young people will come" to "if young people build it, they will stay". "Nothing about us without us" has been another key takeaway.
But how to create this enabling environment and get more young people involved in your community business? Thanks to generous funding from Dulverton Trust and as part of the #Iwill movement, Plunkett is offering free business support, advice and training to community businesses looking to build their knowledge an confidence in working with young people. To find out more call our friendly Community Business Team on 01993 630 022 or email us on info@plunkett.co.uk.
Come to our Webinar in December
We are running a free webinar on the 6th of December looking at "How to Engage, Recruit and Retain Young People in Your Community Business". More details and the link to register can be found here.