Lady Dunsany dies from coronavirus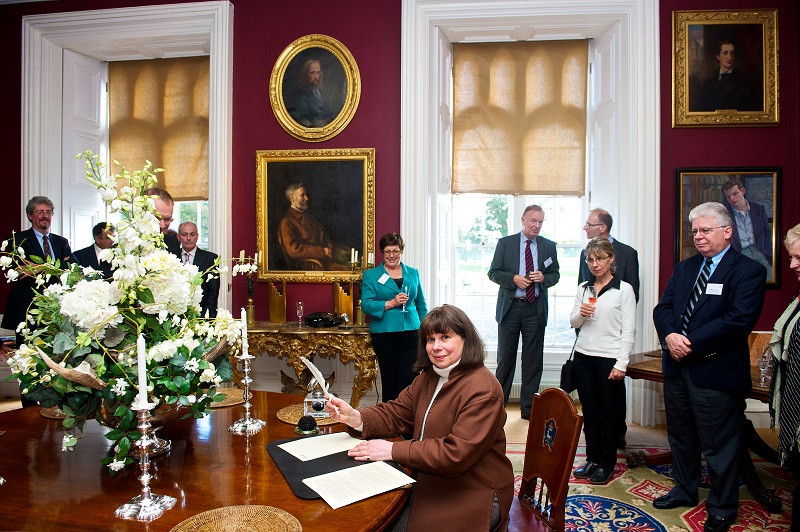 Lady Dunsany, Maria-Alice De Marsillac Plunkett, widow of the 20th Lord Dunsany, has died of coronavirus. Sir Horace Plunkett, founder of the Plunkett Foundation, was the younger brother of the 16th Lord Dunsany.
Although Sir Horace has no direct descendants, the Plunkett Foundation has maintained contact with his living relatives at the family seat of Dunsany Castle.
Lady Dunsany was an architect, and in 2011 joined the charity in signing the Dunsany Declaration at an event she hosted at the castle in County Meath – the childhood home of Sir Horace.
The declaration was issued in the light of World Food Day in order to highlight the positive impact of co-ops on rural development and their key role in feeding a growing population.
James Alcock, chief executive of the Plunkett Foundation, said: "Lady Dunsany honoured the ideals that the Plunkett family name represents, showing an ongoing commitment in particular to Sir Horace Plunkett's beliefs. Her support was key to establishing the Dunsany Group and the declaration that it produced which underlined the continuing importance of co-ops on rural redevelopment.
"The thoughts of the Plunkett Foundation are with Lady Dunsany's family at this very sad time."
Lady Dunsany, who had been married to the late Edward Plunkett, who died in 2011, is survived by her son, Lord Dunsany, Randal Plunkett, two children from her first marriage, and Randal's younger brother, the Honourable Oliver Plunkett of Dunsany.