The National Association of Local Councils (NALC), which represents England's 10,000 local (parish and town) councils and 100,000 councillors, has launched The Good Councillor's guide to community business to promote the opportunities that community businesses can create locally. The Plunkett Foundation wrote the guide in partnership with Power to Change (the independent trust that supports community businesses in England).
The guide is a comprehensive resource that will enable local councils to understand better how a community business could enhance their parish or town in a post-Covid society.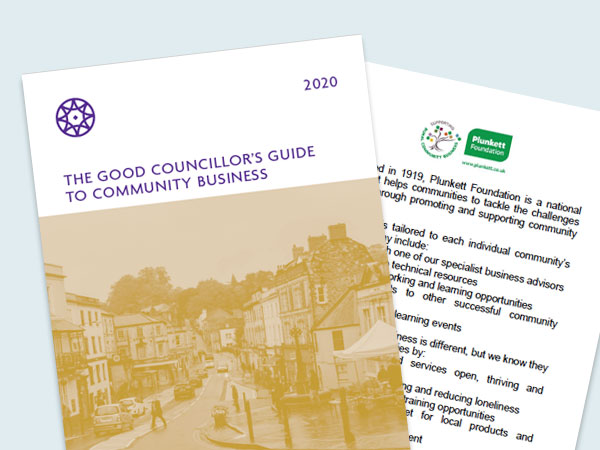 Community businesses are enterprises that are owned and run democratically by members of the community and others, on behalf of the community. They come in many forms, including shops, pubs, woodlands and anything which lends itself to community ownership. In addition to developing and safeguarding valuable assets and services, community businesses address a range of issues including isolation, loneliness, wellbeing, work and training. As well as bringing people together and attracting people to a local area, for every £1 spent in a business, a further 56 pence is spent locally as the money dissipates.
Throughout the coronavirus pandemic, the importance of local services has never been more apparent. However, the reality is that an increasing number of services are at risk of closure due to market forces, lack of funding, or due to the effects of the pandemic. This means that many residents, many of whom are dependent or vulnerable, are losing access to essential amenities. In these areas where there is a concern of services being lost, the community business approach is often a viable and sustainable solution.
This guide intends to provide the practical "how-to" knowledge behind a community business and inspire a new generation of businesses to open. Also, there is support available from all three partners including Plunkett Foundation, Power to Change and the National Association of Local Councils to ensure that councillors can access further expertise and resource to realise the ambition of setting up a community business in their area.
Chris Cowcher, Head of Community Business at Plunkett, said:
"We are delighted to be supporting this project because local councils have the power to encourage, facilitate and support more community businesses to open. The guide launched in a year when community businesses have stepped up more than ever to serve their residents across the UK in the most challenging of times. These enterprising businesses, time and again show themselves to be inspirational and inclusive operations, and it is exciting to think that this guide will lead to even more setting up.
It is often vital that local councils are engaged, contribute to and collaborate with community business projects and through working with NALC and Power to Change we hope that we can create an environment where these businesses can flourish."
NALC Chairman, Cllr Sue Baxter, said:
"I'm delighted for the launch of The Good Councillor's guide to community business. Local councils play a significant role as service deliverers for their communities, through supporting local economy and business. It is encouraging that the sector already engages with community businesses and hope this latest publication will empower councillors with information to support community businesses and extend their take-up across the country."
Ailbhe McNabola, at Power to Change, said:
"In 2020, community businesses have really come into their own. They have demonstrated just how agile and adaptable they can be, stepping up during the pandemic to provide vital support and services for the most vulnerable in their communities. Every town or village should have at least one community business. Run by local people for the benefit of local people, they have resilience hardwired into their business model; and with 56p of every pound spent by a community business staying in the local economy, it makes financial sense too."