Plunkett's project manager, Susie Middleton shares her thoughts on youth loneliness ahead of Loneliness Awareness Week 2023.
There's a lot of hard work going on, all year round, up and down the country to raise awareness of loneliness and at the same time reduce the stigma that surrounds it. But the fact remains we must keep having conversations and taking action to address the impact of loneliness on people.
Loneliness Awareness Week 2023, taking place from the 12th to the 18th of June, aims to bring people together and create the connections that can reduce the feelings of loneliness that so many of us experience at some point in our lives.
Plunkett fully supports Loneliness Awareness Week and its efforts not only to enable conversation around the topic of loneliness but to create and facilitate opportunities for community connections. We also promote the role of community-owned businesses as a way of creating inclusive spaces and participatory hubs that bring people together.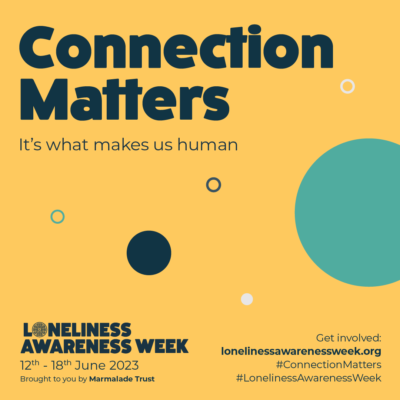 Plunkett recently attended an All Party Parliamentary Group meeting on Tackling Loneliness and Connected Communities, with a theme for the event, which took place at the Palace of Westminster, of "Youth Loneliness". We heard directly from young people who had experience of loneliness, as well as those working to tackle it.
In rural communities that are facing continued cuts to services and closures of assets, there are thousands of people experiencing feelings of loneliness and isolation on a daily basis. Loneliness affects every generation but 16-24 year olds are recognised as being particularly vulnerable, with this generation being faced with reduced opportunities, when leaving school or college, to access activities that provide them with vital social interaction. These experiences are often in transitionary periods of their lives where new connections need to be established from scratch. These interactions have been made more challenging as a result of the cost of living crisis too, with many young people lacking the disposable income needed to take part in activities with their peers.
We were really pleased to attend the APPG event, to represent the community business movement, recognising that these businesses are a proven way to address feelings of loneliness amongst young people. There are some great examples such as, shops and pubs creating flexible training and employment opportunities, community-owned woodlands offering social activities, and cafe's and food growing initiatives providing health benefits targeted at young people.
Community businesses can create a "gateway" for young people and often lead to significant community benefit, through offering vital social interactions and meaningful connections that boost feelings of happiness and inclusivity. Often the volunteering and employment opportunities also enable young people to build lasting human connections, not only with peers but across generations too.
We will be using Loneliness Awareness Week to showcase some of the fantastic examples of community businesses, who are working hard to address loneliness and isolation in their community. Keep an eye on our Plunkett Twitter, Facebook and Instagram and also share your own stories of local action too.
If your community business would like to play a role in addressing youth loneliness by creating opportunities for young people to get involved in your work, Plunkett can offer you free bespoke advice and support as well as access to free resources such as this one that looks at how to engage young people. For more help please call 01993 630022 or email info@plunkett.co.uk"