If we genuinely are going to "level-up" the nation then "rural proofing" the Government's programme of work is critical.
On Tuesday evening shortly after the ministerial merry-go round had begun; which has ultimately led to the resignation of Boris Johnson, James Alcock (our CEO) and I attended an event in the House of Lords to make the case for 'levelling up' rural areas. The event was hosted by the Rural Coalition, a collective of 13 organisations (including Plunkett) that subscribes to a vision of a living and working countryside in England.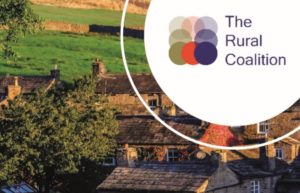 Representing our members' best interests in respect of policy and funding has always been a core commitment for Plunkett Foundation. We attend a huge range of meetings and fora, as well as being members of stakeholder groups with the ambition of promoting the role and impact of the rural community businesses we work with. Our work with the Rural Coalition enables us to share the views of our members and promote their priorities with policy makers and a network of other rural organisations, making the case to support our sector.
Rural as a region: the hidden challenge for Levelling Up
The central point being made at Tuesday's event was that not enough is currently being done by government to recognise, let alone address the inequalities that exist in the countryside. The main presentation on the evening came from an organisation called Pragmatix, who were commissioned by Coalition partners the Rural Services Network in June to review the Government's Levelling Up White Paper through a rural lens. Their findings highlighted the fact that if "rural" was a region, rather than a collective of communities dispersed across the country it would be the most deprived region (relative to population) and in desperate need of 'levelling up'. You can read the full report via this link but the findings highlight a very real risk that rural communities are at risk of missing out on vital investment.
Plunkett Foundation will continue to make the case for supporting equitable growth of the community-ownership sector in rural areas because we know that these inclusive businesses can have a transformational impact in the places where they are set up. They create volunteering, training and employment opportunities. Their operations demonstrably reduce isolation and improve local wellbeing. The businesses recognise the importance of environmentally practice and contribute significantly to the local economy. If backed sufficiently community-owned businesses will help to level up a huge number of communities in the coming years.
Positively the Department for Levelling Up Housing and Communities, responsible for pushing forward the Levelling Up agenda did respond to the publication of Pragmatix's report and stated that "rural areas are at the heart of our levelling up agenda". As attention now moves to a leadership race, it will now be important to remind whichever candidates put themselves forward to replace Boris Johnson of this commitment. You can rest assured that Plunkett Foundation will be doing exactly that.
Chris Cowcher, Head of Policy (@ChrisCowcher)
You can help us to make the case for our sector.
Through becoming a member of the Plunkett Foundation you can strengthen the collective voice that represents a growing movement of community businesses UK-wide. Please read more about our membership services and benefits via this link.
If you want to learn more about advocacy and public relations work please feel free to get in touch via chris.cowcher@plunkett.co.uk.