New chair takes reins at Plunkett Foundation at 'critical' moment for community businesses
RURAL community business charity the Plunkett Foundation has elected its new chair and outlined an optimistic vision for a rural recovery as the sector continues to adapt to the daily reality of Covid-19.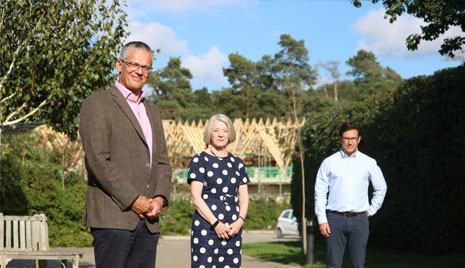 Stephen Nicol joins the organisation as a trustee and chair with over 35 years' experience working in the public and private sectors and is currently director of Nicol Economics.
Mr Nicol previously worked as a government economist in the Department of the Environment and at the Treasury and later ran an economics consultancy business. He struck an optimistic note as he took the reins at Plunkett.
He said:
"I am joining Plunkett at an important time for the organisation. We are in great shape, in a strong financial position and with an excellent staff team and board of trustees. The impacts of Covid-19 in 2020 have underlined the critical importance of strong community businesses for their communities. Plunkett has and will continue to rise to the challenge of sustaining existing community businesses and spreading the proven community business model into those UK rural communities it has not yet reached. I look forward to working with the Plunkett team, our members, funders and other supporters."
The charity helps rural communities tackle challenges such as social isolation, employment and poverty by supporting enterprises – including shops, pubs, bakeries, farms and woodlands – that are owned and run democratically by members of the community.
Plunkett's chief executive James Alcock welcomed the new chair, noting that his term begins at a time of both crisis and opportunity for the rural community business sector.
He added:
"I know I speak for the whole organisation when I say that Plunkett is thrilled to have Stephen as our new chair at this critical time for community businesses. We have recently outlined our vision for a rural economic recovery, and the dynamic leadership that Stephen brings along with his wealth of experience will be essential as we help steer the sector towards a future that I have great confidence will be bright."
In its newly released Vision for a Covid-19 Rural Recovery, Plunkett has highlighted the achievements of community businesses across the UK during the lockdown. Since March community owned and run enterprises have shown strength and resourcefulness to provide vital services and support to people living in their areas, and especially those most in need and vulnerable. Many businesses remained open and relied on armies of volunteers to, for example, provide collection and delivery services of vital supplies.
Mr Nicol was elected chair of Plunkett following organisation's AGM held remotely yesterday (Wednesday 9 September). He takes the role after Margaret Clark's seven year term, which included the organisation's centenary celebrations in 2019.
As she departed as chair, Margaret Clark said: "It has been a pleasure and a privilege to lead Plunkett for the last seven years. There have been some challenges and none more so than now, but Plunkett and its members have demonstrated their ability to adapt and I am sure will be even stronger in the future.
"I am very grateful to all our partners and funders who have worked with us and supported us over the years. Continuing to work together in the future will only help to increase the benefits for rural communities generally."