Chris Cowcher, Head of Policy and Communications joins in with the community celebrations at the latest pub to open under community-ownership.
The ambition of local residents in the North Yorkshire village of Skeeby, to become owners of their local pub, has been become a reality after a battle of nearly 15 years. The community's endurance, determination and commitment has resulted in the UK's community-owned pub number 167 opening on Friday 26 May 2023.
From all of us at Plunkett, we are simply delighted to welcome the Traveller Rest in to the growing movement of community businesses UK-wide. Here's to a long and successful future ahead!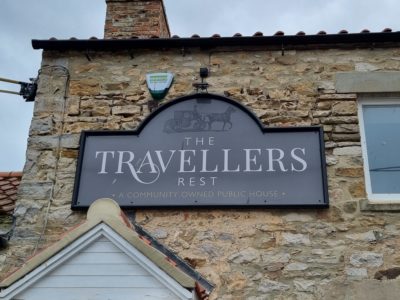 Lucky enough to get a look around…
Over the bank holiday weekend my family and I were afforded the opportunity to join with community share investors and other local supporters, at an event which celebrated the pub's first full weekend of trade. Following in the footsteps of the local MP and Prime Minister, Rishi Sunak, one of the pub's 250+ shareholders, who had visited on Friday afternoon we were left in awe at the achievements of all involved with Plunkett Members the Skeeby Community Pub Society Ltd!
The pub is beautifully decorated. The walls are adorned with the work of local artists that is for sale, with a commission (on sales) to be paid to the pub to raise money for local causes. There is a large bar and restaurant area, and up a flight of steps a stunning garden room which opens on to a new decking area. In the garden itself, there is plenty of room for the many benches and tables, which surround 4 quoits pitches – a very popular sport in the local area. The whole space has been reconfigured to meet the local aspirations of creating a genuinely inclusive, welcoming community hub that has something for everyone.
Given this building had stood derelict for all those years, to see the finish of the décor is an incredible feat, made possible thanks to a herculean volunteering effort supported by local tradespeople. From paint work to making curtains, to installing new toilets and re-establishing the garden, the tales of pride from all of those people involved with the project was evident as I caught up with some of them at the event on Sunday.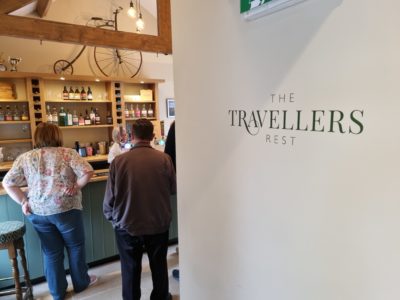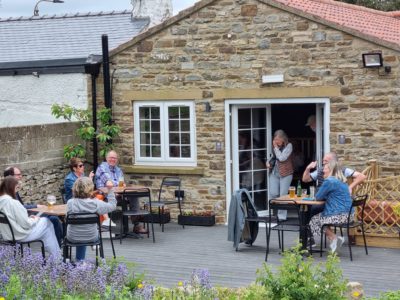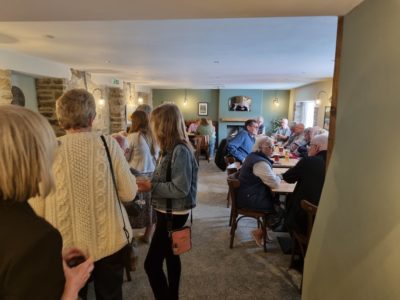 The pub should never have been shut for that amount of time
Whilst all the celebrations are quite rightly lauding the efforts that have led to the latest community business to open its doors, the fact remains that a community asset should never have stood shut for 15 years.
With the local community repeatedly offering to purchase the pub since 2008, the local desire to see the asset protected was absolutely clear. More importantly residents wanted their pub to be open and benefitting their community – Something they have achieved in the end but something that should have happened much sooner.
The story of the Travellers Rest at Skeeby highlights once again why it is important that the legislation around asset protection is strengthened – with a community's interest prioritised. Plunkett Foundation has long called for a Community Right to Buy in all 4 UK nations, as we believe that local residents should have a right of first refusal on the assets that matter to them. We will continue to engage with policy makers and politicians to make this case, you can read our policy position paper here.
Join the movement:
Did you know that you can become a Plunkett member for just £20 a year? You can support our work with community businesses UK-wide, and join a growing movement making the case for creating innovative, inclusive and impactful spaces through community-ownership. Find out more here.