Plunkett Foundation's Annual General Meeting took place online on Wednesday 14 July 2021.
Chaired by Stephen Nicol, Plunkett Foundation's Chair of Trustees, members, supporters and representatives from across the community business sector reflected on the extraordinary experiences of 2020 and looked forward with confidence at the growing network of community businesses across the UK.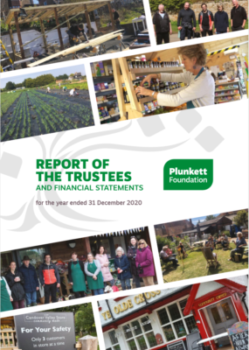 Plunkett presented its annual report and accounts for 2020 – to see a full copy of the report download it here: Report of the Trustees & Financial Statements.
Stephen Nicol, chair of the Trustees, said: "2020 was a year we will never forget. The changes wrought by COVID-19 were deep and wide. Every person, every business and every community has been profoundly affected. 2020 was also the year where Plunkett truly rose to the challenges created by COVID-19. We fielded huge levels of enquiries and delivered unprecedented levels of support to the community business sector."
James Alcock, Chief Executive, commented: "Our members and supporters have gone to extraordinary lengths to ensure their communities were supported during the pandemic. We are sincerely proud to have supported their work and now look forward to helping communities, across the UK, to recover from the pandemic through the benefits delivered by community-owned businesses."
The meeting also included thanks for those funders, that enable Plunkett to offer support to new and flourishing communities across the UK including; Cooperative Development Scotland, The Dulverton Trust, Esmée Fairbairn Foundation, Hopkins Homes, Locality, Post Office Ltd, Power to Change, the Prince's Countryside Fund, Thakenham and National Lottery Community Fund.