Stephen Nicol, Plunkett's Chair presents the annual report of the trustees and accounts published at the charity's AGM.
On Wednesday 6 September, Plunkett Foundation held its annual general meeting with members and representatives from across the community business sector. Recognising how successful the past three AGMs have been, in terms of engagement and geographic representation, Plunkett has continued to hold it's annual meeting online with a commitment to offering access for people from across the UK and internationally to engage with the proceedings.
As part of the meeting, we shared the Annual Report of the Trustees and Plunkett's accounts for the year ending 31 December 2022.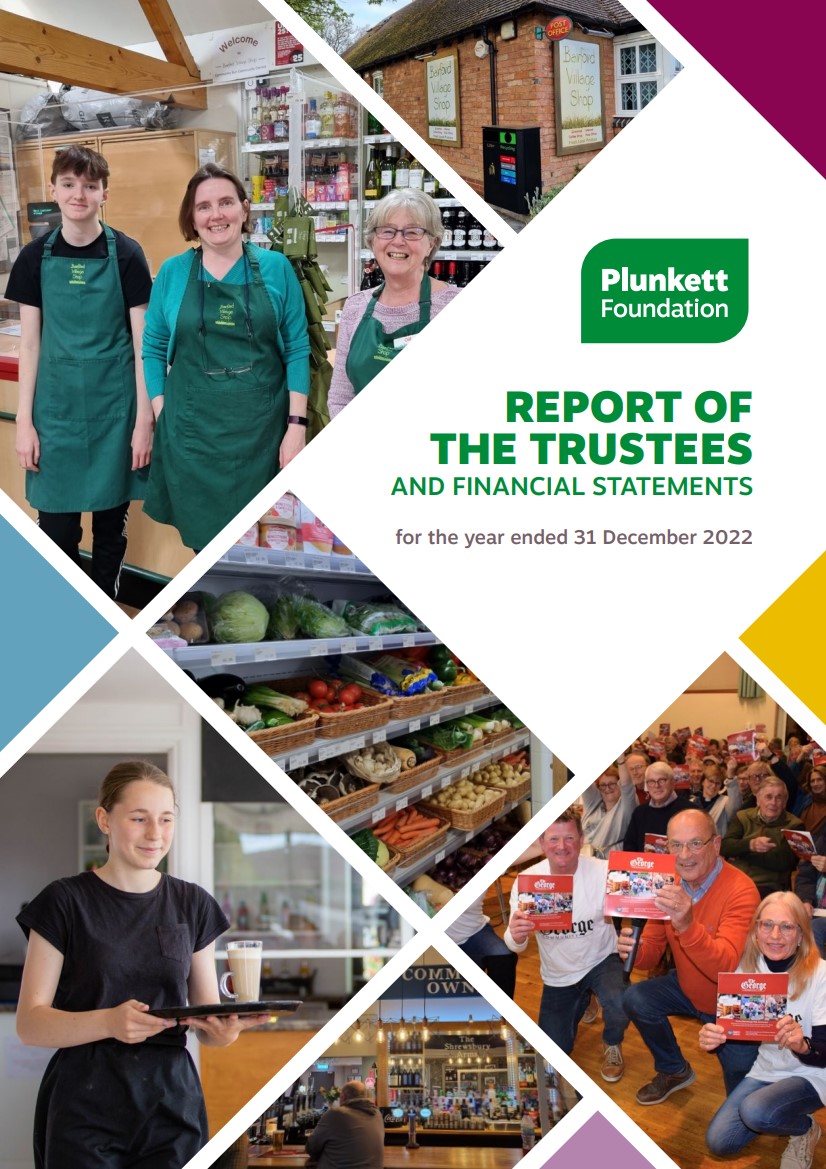 Our annual report in context
Our Chair, Stephen Nicol provided an overview of work completed by the team last year and put the report in to the context of global challenges.
Stephen highlighted that the lasting affects of the pandemic, a war in Ukraine and the enduring cost of living and energy price crises continue impact those living and working in rural areas. He added that the role of community-owned businesses, helping to create innovative, inclusive, and impactful spaces, was perhaps more important now than ever before. The community businesses supported by Plunkett are on the frontline in communities across the UK, helping residents to feel connected and able to access services, employment, and social opportunities locally.
It was at last year's AGM that we launched Plunkett's 2022 – 2026 strategy, and it was fantastic to see 23 new businesses open in 2022 which is very much in line with our ambition to grow the rural sector by 20% over the next 5 years. Also, the fact that the long-term success rate for community businesses continues to be 96% is a testament to the resilience of this sector and the commitment of everyone involved.
Building a movement
In his speech, Stephen paid testament to the volunteers at heart of our sector. He acknowledged that there are many challenges leading to widespread fatigue amongst the network. Having to deal with reduced footfall, increased costs, staff shortages and disrupted supply chains have been placing undue pressures on individuals who have given everything for the benefit of their local community. It was great therefore to report genuine progression being made in terms of building a 'movement' for our sector, making sure that every business and developing project has access to genuine mutual aid and peer support from other community businesses from across the UK. As well as this grassroots expertise, it was good to see funders and other commissioners recognise the importance of advisory support services. The announcement of a consortium, led by our long-term partners, Locality leading offering support to applicants of the UK Community Ownership Fund was perhaps the most significant example of this recognition in the past year.
Plunkett will continue to represent the interests for all community businesses that we work with. We will continue to advocate for a strong policy, funding and support environment across England, Scotland, Wales, and Norther Ireland. Stephen thanked staff, both past and present for their contributions to our movement. Speaking on behalf of the board he also paid tribute to the new trustees that have joined the organisation this year. Stepehen paid tribute to Julian Ross and Sue Boer, long-time members of the board of trustees and representatives of community businesses in Cumbria and Somerset respectively, who stepped down at the AGM.
The over-arching message from the meeting was that we must continue to build on a successful 2022 together and continuing championing the role of community-owned businesses as a solution to many of the societal, economic, and environmental challenges that we face.
Are you interested in joining the movement?
You can become a member of Plunkett Foundation from as little as £20. Read more and sign up today via this link.