Where have the Plunkett team been in the first quarter of the year?
In 2022, Plunkett published a report which considered where are the "hot" and "cold" spots for community-owned businesses UK-wide. The research, which was produced independently by Scotland Rural College's Rural Policy Centre, used Plunkett's operational reach as the basis for the study and has influenced our Plunkett 2026 strategy ambitions to grow the sector by 20% over the next 5 years. To achieve this we will need to further investigate those areas where there is currently a lower number of community businesses. A critical part of this work will be collaboration and partnership with a range of partners and organisations across England, Scotland, Northern Ireland and Wales – and getting "out and about" to promote the business model widely.
Updating our members…
We thought that our members would like know where the team have already been so far this year, to see how we and others are actively promoting community-ownership in different areas. We'll aim to provide these kind of updates on a quarterly basis, but here's an overview of some of the places we've been during January – March 2023: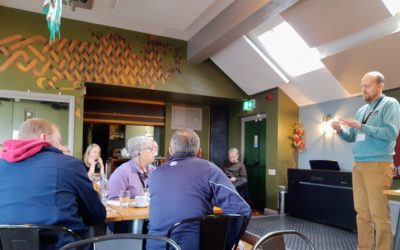 We've been active in Scotland, Wales, England and Northern Ireland…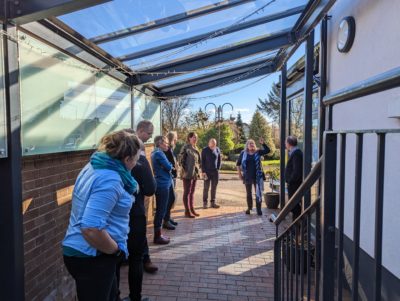 To start Susie Middleton, our project manager was in Edinburgh in early February for the first meeting of the new forum we are setting up for advisers supporting co-operatives and community businesses across Scotland. The forum will be a great opportunity for advisers to network, share ideas and knowledge, and continue to strengthen the support available to community businesses in Scotland. Plunkett also organised a visit to the Swan Inn, Banton as part of our work with Scottish Government. Although adverse weather impacted our travel plans the event which was run on the day by Community Shares Scotland provided a great opportunity to hear from the "People United for Banton" as well as participate in workshops and seminars alongside colleagues from Cooperative Development Scotland and the Scottish Land Fund.
Travelling to the North of England, Georgina Edwards, our Policy and Research Manager was delighted to link up with Kim Leadbeater MP for an event we ran together in her constituency, Batley and Spen, West Yorkshire. The "Introduction to Community Business and Raising Finance" event brought together local people to consider how to transform closed commercial spaces in innovative, impactful and inclusive places. Hannah Nadim, a Plunkett adviser and representative of the Fox and Goose Community Pub in Hebden Bridge and Adrian Bean, from social investors Key Fund were also on hand to offer insights, advice and support to those in attendance.
Alison Macklin, Community Business Manager and Diane Cameron, Project Manager both joined with representatives of the community business movement for February's Collective Futures event, hosted in Birkenhead in February. We were delighted to take up the invitation from Sister Midnight to attend the event to discuss how community-owned music venues work and what are the advantages of this form of business, for other venues UK-wide. Have since had contact with 3 venues: Band on the Wall in Manchester, The Ferret in Preston and Quarry in Liverpool.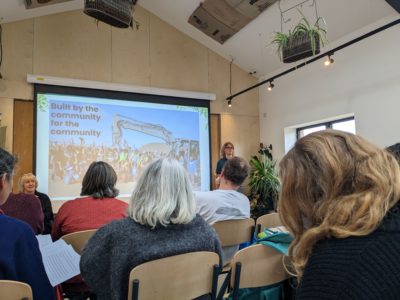 Susie Middleton, who is definitely in the running for the most miles covered so far in 2023, visited the North East of England in March as part of an event we hosted in partnership with Durham Community Action, County Durham Community Foundation and Northstar Ventures. The event in Peterlee, County Durham was focused on raising the profile of the community business model and what support is available in the area to those exploring community business. The day also explored ways to raise finance to fund these projects. Guest speakers came from across the county as well as from neighbouring Northumberland.
Our Head of Community Business, Claire Spendley travelled to Cornwall in March and presented the opening keynote at the National Lottery Community Fund's 'Cornwall Places & Spaces' conference. The event included a day of plenaries and workshops examining the importance of places and spaces in enabling communities to thrive – covering themes such as regeneration, social inclusion, health & wellbeing and environmental sustainability. Those in attendance were also able to learn more about inspiring projects such as Newquay Orchard and Beach Clean, as well as reflect on how community businesses can increase their impact, accessibility and inclusivity.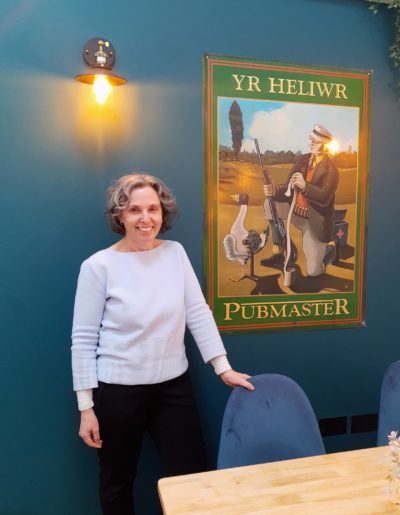 Plunkett hosted a really well attending community pubs study visit to Tafarn y Fic, Llithfaen in North Wales. Hosted by Diane Cameron, the event included speakers from Cwmpas, WCVA and Plunkett adviser, Grant Peisley who is also involved with the T'yn Llan community pub. All content was delivered bilingually and included an introduction to our advisory support services and what other organisations in Wales can offer to community business projects. Diane was also able to visit other community businesses in the area, including Yr Helliwr in Nefyn.
Finally, whilst I wasn't able to travel to Northern Ireland for the event itself I was pleased to join colleagues from the Queen's University Belfast and the Architectural Heritage Fund NI for their Rural Placemaking Conference. Having dialled in remotely, I was able to provide an online presentation to the delegates, which included civil servants from the Department of Agriculture, Environment and Rural Affairs about the success of the community business model in other parts of the UK. The follow up discussion then considered how community-ownership could be more widely utilised in Northern Ireland.
Keep in touch…
Of course all of the above is not an exhaustive list of everywhere the Plunkett team has been since the beginning of 2023, however we hope it illustrates the commitment we made in our strategy to "build awareness of the community business model and what support is available for businesses UK-wide".
Please do keep in touch with our movements and we look forward to bumping in to some of you at the events we have coming up, particularly our Facing the Future Together conference which happens in Birmingham on 6 July. You can get your tickets now via this link.
Chris Cowcher, Head of Policy and Communications