Plunkett's project manager, Diane Cameron shares her account of a recent community ownership event in Northern Ireland.
At the end of October, Plunkett Foundation was delighted to accept a kind invitation from Development Trusts Northern Ireland (DTNI) to lead a session at its Rural Community Ownership Conference in a beautiful purpose-built community-owned venue called The Junction in Dungannon, Co. Tyrone.
Weather warnings for rain and floods right across Northern Ireland on Hallowe'en didn't prevent a crowd of local development trusts and others braving the elements to share their experiences and talk all things community ownership at this friendly event.
Hosted by DTNI along with Glasgow Caledonian University and the Rural Community Network, the focus was outward-looking; sharing stories and the transformative impact of community ownership on local people within NI and across other UK nations.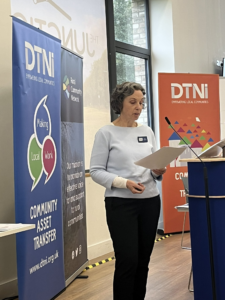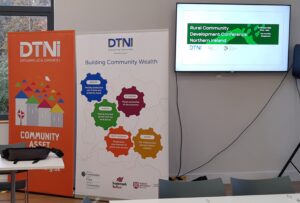 We heard from Community Land Trust Network about community housing projects in England locking in affordable homes for local people permanently, to combat the housing crisis. Development Trusts Association Scotland (DTAS) outlined the fantastic help Scottish community groups can get in rural areas from their Community Ownership Support Service and in Northern Ireland itself we heard from Grow the Glens on community digital hubs and the Friends of Loughmacrory working within the context of a rapidly growing village. It was heartening to hear of the hard work and positive results that are taking place right across the UK.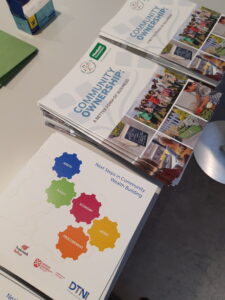 On Plunkett's behalf, I presented our new Better Form of Business report and outlined the 92% long-term success rate of democratically owned rural community businesses across the UK nations, as well as all the ways Plunkett can support groups from the outset. We know from hundreds of individual impact stories the massive social impact these small businesses have and the positive ripple effect they create across their local economy.
It was so great to be in Dungannon, as Plunkett has been working closely with DTNI as partners within the coalition of 10 organisations the UK Government has brought on board to support community groups interested in applying to the Community Ownership Fund (COF). Getting to meet in person for the first time was a brilliant experience!
If your community group wants to apply to the fund to save or transform an asset at risk of loss, sign up for free to our webinar on 20th November (scroll down the page and you'll see our event for pubs, shops, cafes (and more!). We'll have a successful COF grantee group joining us as well as practical advice for you. See you there!