Plunkett is excited to announce that the Rural Community Business Awards are returning for another year with the support of headline sponsor, the North Barnes Farm Partnership.
The Awards honour the commitment and achievements of all types of rural community businesses, as well as recognising the volunteers often working tirelessly in the background who go above and beyond to serve their local communities. The awards are a chance to acknowledge and congratulate rural community businesses all over the UK for their extraordinary efforts as they continue to step up to serve their communities in spite of an incredibly challenging trading climate for all businesses.
Across the UK a growing number of 750 community-owned businesses are creating resilient, thriving and inclusive rural towns and villages. Whether a shop, farm, bakery, woodland or pub – their much valued services help tackle rural issues of isolation, loneliness, access to essential goods, provide jobs and training, help the environment and create amazing opportunities to bring people together to improve the wellbeing of all.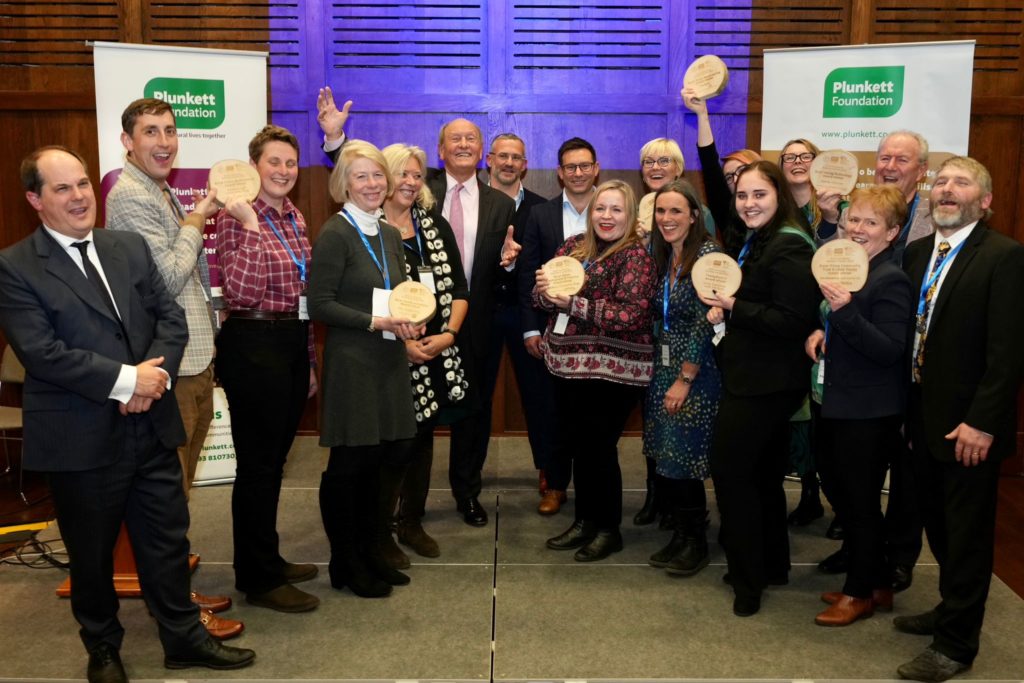 Nomination entries in to the 2023 Rural Community Business Awards from community-owned businesses from across the UK that are in a rural setting opened on Wednesday 26th July.
There are eight award categories to enter:
Rural Vision "Volunteering Award"
Rural Vision "Inclusivity Award" 
Rural Vision "Community Food & Local Supply Award" 
Rural Vision "Employment & Training Award" 
Rural Vision "Environment Award"
Rural Vision "Technology Award"
Community Contribution Award 
Young Person Award 
As well as Headline Sponsor, the North Barnes Farm Partnership, we would also like to thank the following Award sponsors for their support: Ansvar Insurance, Anthony Collins Solicitors, Co-op, North Barnes Farm Partnership, Power to Change, Suma and Thakeham.
James Alcock, Chief Executive at Plunkett Foundation, said: "Community-owned businesses have the power to improve the lives of all those living in rural areas.  They provide access to services that are essential to everyday living and a lifeline to those in their communities that are most in need – the isolated, the elderly, people on low incomes and those seeking local employment. Our Rural Community Business Awards seek to find and celebrate the UK's very best community-owned businesses."
Damon Turner from the North Barnes Partnership said: "As a Partnership we recognise the importance of embedding community-owned businesses at the heart of new developments to ensure they thrive as inclusive places from day one, and value the advice and input of The Plunkett Foundation to our plans for a small market town in East Sussex. We are proud to once again be Headline Sponsor of these awards that recognise the tireless work of community-owned businesses up and down the country."
For further details about the Rural Community Business Awards and how to enter, visit https://www.plunkett.co.uk/rural-community-business-awards.
For media information & images contact Chris Cowcher, Head of Policy and Communications tel: Tel: 01993 630022 | Direct: 01993 630243 | Mobile: 07507 602724 email: communications@plunkett.co.uk
Editor Notes: 
Plunkett Foundation 
Plunkett Foundation is a UK-wide charity with a vision for resilient, thriving and inclusive rural communities. To achieve this, we support people in rural areas to set up and run a wide range of businesses that are genuinely owned by local communities, whereby members have equal and democratic control. Today, we represent over 750 community businesses throughout the UK, from shops and pubs through to woodlands, farms and fisheries.
North Barnes Farm
North Barnes Farm will be a brand-new community in East Sussex, delivering sustainable homes for all ages, alongside local jobs and plentiful green spaces. The plan includes:
Up to 3,250 new homes
40% affordable housing, helping local people find a quality place to call home.
Up to 3,250 jobs created across a number of industries, meaning people can live close to where they work.
60% green space – only 40% of the site will be developed.
30% biodiversity net gain, significantly above local and national targets. We will boost biodiversity early on in the development, which will support wildlife for decades to come.
37% of fruit & vegetables grown on-site by supporting local food and farming initiatives.
Operationally net zero carbon by 2050 by championing renewable energy and supporting sustainability.
About the North Barnes Farm Partnership
As the North Barnes Farm Partnership, we believe that development and housebuilding shouldn't just be about extracting value. It must be about creating a legacy and social value for the widest group of people, whilst protecting and enhancing the environment for generations to come.
The Partnership is made up of the landowner, Eton College, with a strong sense of social responsibility and committed to long-term community stewardship, and Welbeck Land, experienced property professionals who have a passion for doing the right thing for communities
The partnership is advised by The Plunkett Foundation, a charity that supports the development of community-owned business UK-wide, and is offering advice as to how this form of business could be utilised in the context of a new development.
Taking part in the Rural Community Business Awards: Community-owned business nominations should be submitted online by 5pm on Friday 8th September.
The eight Rural Vision Award winners and the three finalists for the Community Contribution and Young Persons awards will be decided by a panel of judges made up of sponsors.
A special awards evening, hosted by TV presenter and auctioneer, Charlie Ross, will take place to announce the winners at The Royal College of Chemistry in London on Wednesday 15th November.
Winners will receive £250 for their community business.