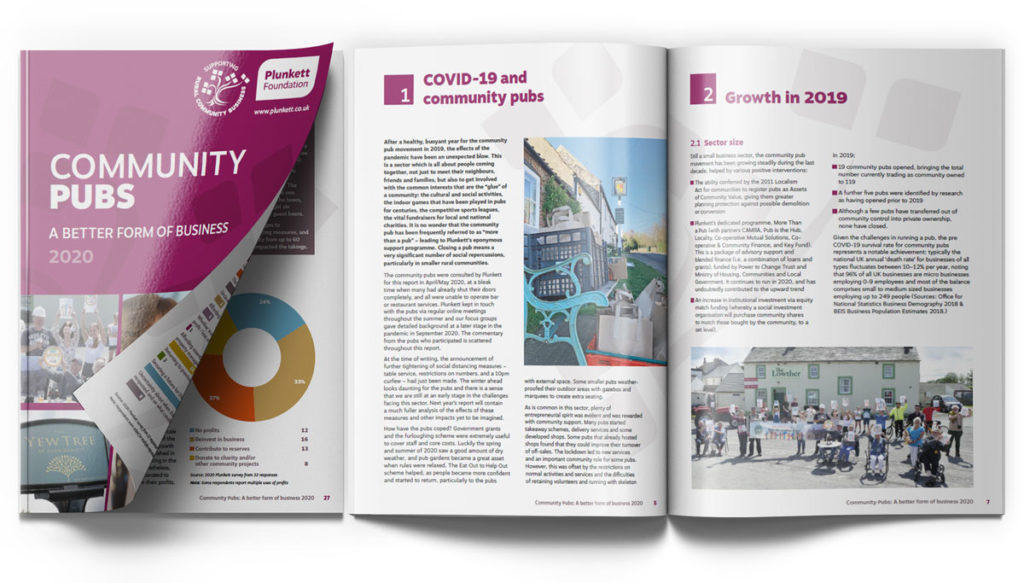 Today we are living through an unprecedented time of disruption for all types of business across the spectrum – and this includes those that are community owned and run. The unique nature of community businesses, always at the hearts of the communities they serve, positions them to respond to these dramatic times in a very special way. Our 'A Better Form of Business' reports into community pubs and shops are detailed accounts of the countless hours given by people all over the country as they find solutions to the challenges their communities face. This is the magic of community businesses – whether they are pubs and shops, or even bakeries, woodlands, farms and anything in between – they are always the physical manifestation of true community spirit, optimism, creativity and diversity.
Both reports focus is on the sector by the end of 2019 – although they also look at the response to pandemic of 2020. Our shops report shows a sector facing the current crisis with positivity and optimism – businesses are growing their volunteer numbers, diversifying their services and in many cases boosting their sales. At the end of 2019 there were 372 community shops trading. That means 372 communities benefitting from products, services and social connections that would otherwise likely have been non-existent. Community shops have a volunteer workforce of around seven thousand – and a survival rate of 92.5 per cent. This robust business health meant community shops were well placed heading into the turbulence of 2020 in order to become even more vital lifelines as the pandemic and lockdown changed the way we live.
For community pubs 2019 also proved to be a year of great success. The sector grew by 19 per cent, and strikingly, not a single community pub has ceased trading since our records began. The doors were open to 119 community pubs as 2020 dawned, and these pubs have been hosting an impressive variety of services including post offices, cafés, convenience stores, farmers' markets, community gardens and allotments, affordable housing and even renewable energy. We learn from today's report that 19 newly opened community pubs raised an impressive £3.7 million between them, and gathered 3,718 new community shareholders.
These past months of the pandemic have been difficult of community pubs, and whilst government support scheme have helped, we know there are difficult times ahead. Our report notes that community pubs are often in smaller buildings making social distancing and table service awkward, and it remains to be seen how smaller pubs will fare once the dark evenings of winter arrive and outdoor seating is no longer an option. The months ahead are unlikely to be easy ones for this hospitality sector as a whole, and in the coming year as sadly more pubs face the threat of closure, more and more communities will look to the community business model as their way to save these important local assets and learn from those who have gone before them how this can be achieved.
Community businesses in any form are always about people – and the facts and figures in these reports underline that. Pubs and shops have been able to stay open and offer new services during the ever-changing landscape of the pandemic because of the dedication and selflessness of countless numbers of volunteers and staff. Since March we have become increasingly accustomed to a rollercoaster of bad news from the economic effects of the pandemic. But throughout, there have been many moments of community spirit that have lifted our collective spirits. For me, it is heartening that community pubs and shops have been able to rise to this challenge and in the vast majority of cases continue to support those people who rely on them.
We don't know what the future will bring, but one thing of which I am certain is that the role of community owned pubs and shops will be more vital than ever before. The foundations for a rural recovery – fuelled by optimism, diversity and creativity – can be found in the pages of these reports. The community business model is one that has been proved to work, time and time again – and I appeal to communities across the UK to look to the power of community ownership to bring the vital services you rely on in your area.
So, despite the challenges of 2020, I truly believe these reports show that this is an exciting moment for community businesses and indeed, there has never been a better form of business to help meet the diverse needs of communities everywhere.
James Alcock
Chief Executive, Plunkett Foundation