Christmas campaign –
help us support inclusive rural communities
For many people living in rural areas Christmas can be a time when feelings of being lonely and isolated can be overwhelming.
This Christmas we're asking for your support, via our Christmas campaign, to make sure that we can continue to be there for any community looking for our help.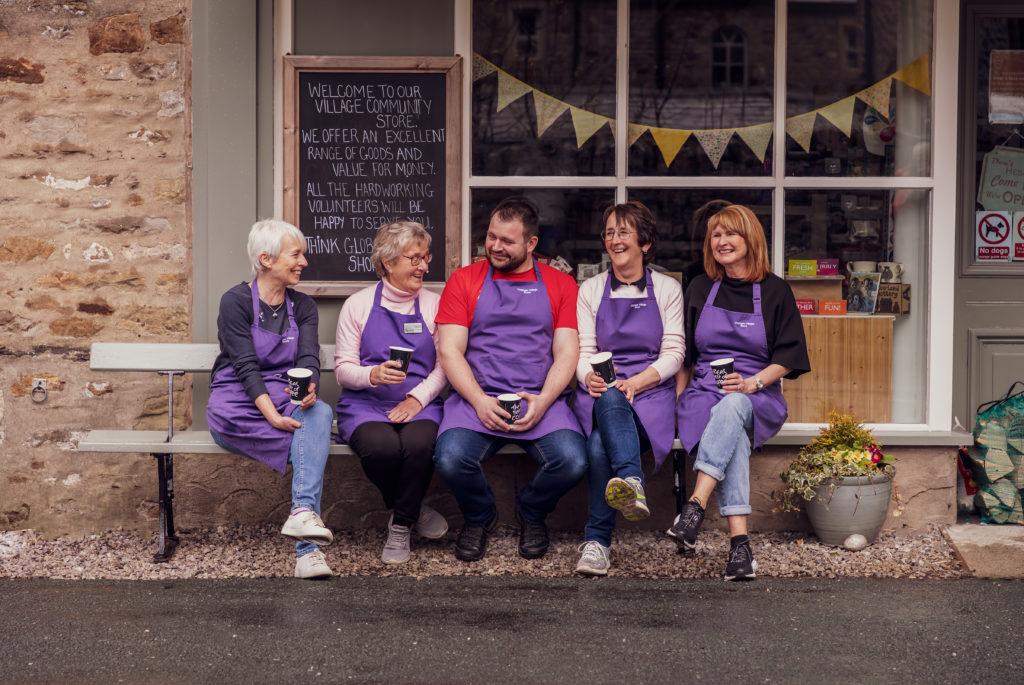 Community-owned businesses – such as grocers, bakeries, post offices and pubs lie at the heart of their towns and villages and not only provide vital services but a host of social benefits too, helping their communities to address issues of isolation, loneliness, bringing diverse groups together, improving wellbeing and re-igniting true community spirit.
Plunkett has supported 800 community businesses to open and is working with a further 500 groups to help them realise their community ownership ambitions.
Through the Plunkett Christmas campaign you can donate, join our raffle for some amazing community-business prizes or simply support us by becoming a member. This year we're delighted to be sponsored by Bestway who share our desire to help rural communities thrive not just now but in the future too.
We have an amazing array of prizes including:
luxury food hampers
a £100 voucher for the community-owned Fordhall Farm in Shropshire
an Ethical Addictions Coffee hamper
£50 John Lewis voucher and much more
Raffle tickets cost £2 and every ticket sold will directly contribute to our support services – meaning that we can help even more community businesses.
Community businesses play a truly essential role in serving their communities and really have the power to improve lives.
Every day we offer groups across the UK advice, training and grants to enable them to establish community-owned businesses. Here are just three examples of businesses that have been supported by our work and that have developed additional life-changing activities:
One of Berrynarbor's most celebrated residents Bill Huxtable was born and bred in the Devonshire village and owned and worked a local farm. Retired and now in his late 80s Bill, until quite recently, was fiercely independent and made a daily trip to the shop to buy all his grocery needs.
He is dearly loved by the shop's staff and volunteers and as Bill got older and less able to tackle the steep slopes and hills Berrynarbor is infamous for the shop missed his visits. Sadly for Bill he has become increasingly unwell and suffering from dementia was no longer able to stick to his daily routine.
However with the help of shop's manager, Karen Loftus, and volunteers who know Bill's favourite foods he has his shopping done for him and delivered to his door. A phone call each day confirmed his order and Karen would deliver his shopping on her way home to his kitchen table and unpack it for him. Bill was overwhelmed by their kindness.
Yarpole community shop, cafe and post office runs from St Leonards church in rural Herefordshire. Located in an active church it provides a central location at the heart of its village for churchgoers and non-churchgoers to come together. Its impact on the village is far-reaching and never more so than for Audrey one of its longstanding volunteers. Audrey explains how volunteering at Yarpole helped her tackle bereavement and depression and acted as a lifeline in helping her find a focus, a purpose and her place in the community.
In her own words Audrey says: "After my husband died I had severe depression. I had nothing left in life and for someone in my situation it saved my life."
Watch Audrey's story here.
Along with her golden Labrador guide dog, Zebeddee, Patricia Poole, a resident of Ash, near Canterbury, visits community-owned pub – The Chequer Inn – every Monday for their 'Meet-up Monday' session. This session brings the community together, provides them with a place to meet and allows people living alone or people new to the village to meet up with friends and neighbours.
Patricia explains the impact that this simple meeting has on her life: "In the year before the Chequer opened, l lost my mother, young sister and best friend, then my husband. I was a very social person, always being involved in voluntary work but grief took over and l didn't want to socialise. Being registered deaf and blind, it's not always easy to join clubs. The pub opened and l was dragged along by a friend. Myself and my wonderful guide dog were made so welcome, l became interested in life once more."
Thank you to the following sponsors for their support of our Christmas Campaign