Providing low impact, mobile shopping to isolated rural villages.
About Tis The Future Mobile Shop
Tisbury Community Benefit Society set-up a zero-plastic mobile shop, called 'Tis the Future', to serve the village of Tisbury and its neighbouring villages in Wiltshire.
Following community consultation the residents of Tisbury turned their initial idea of running a community pub and hub into providing a mobile shop of essential goods for isolated rural villages. Their dream was to provide a means of 'low-impact' shopping that was reasonably priced and accessible to all.
Journey
The group focused its efforts on formally establishing itself as a Community Benefit Society (using Plunkett's Model Rules Service) and gathering both funding and professional advice.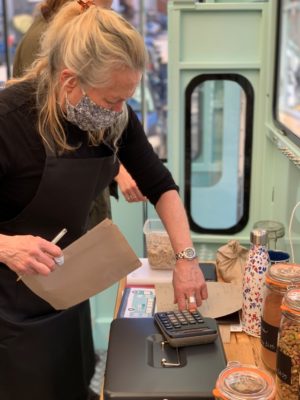 To support the group Plunkett provided ten days of support to help them with their early stage plans and enable Tis the Future to focus on their share offer. As part of the support, the group received a grant of just over £10,000 for a variety of professional fees, such as a conveyancing lawyer, campaign materials, business and finance advisors and a campaign consultant.
Fundraising
The Society launched its share offer in 2020 in two phases and together these raised over £46,000. A total of £35,000 was raised from local investors and £11,000 through match funding. The business now has 122 members who have a say in how the organisation is run and are able to vote at the AGM.
Impact
An electric vehicle now provides Tisbury and its local villages with the opportunity to come on board and do their shopping in a way which generates no single-use plastic.
The mobile refill shop also served an important role in linking up the villages and people within the community when the Covid-19 pandemic struck. As travel restrictions were imposed the group had to rethink practical plans and how to operate. They added a vehicle awning to allow customers to queue safely and a hot water sink for customers and to clean the dispensers after use.
The refill shop enables the community of Tisbury to do their bit to help the environment, making plastic-free shopping accessible and affordable to all. The group has plans to visit schools and join 'green' festivals to highlight the benefits of plastic-free shopping and they are encouraging small, local producers to provide goods for the Tis the Future shop.
Plunkett's role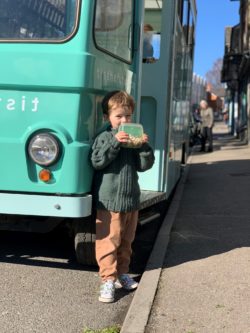 Plunkett helped the committee in choosing a structure, setting up the community mobile shop and supporting them with financial, legal and funding advice. The group worked with a Plunkett adviser for early stage support and to establish it's community share offer.
The group received 10 days of specialist support including a Plunkett Foundation business adviser, lawyer's fee, finance advisors and a campaign consultant. Additionally during the pandemic it helped them to adapt their vehicle and offer a safe and accessible place to shop.
Plunkett was able to provide this business support, thanks to the generous support we receive from Esmée Fairbairn Foundation and Bright Ideas Fund.
"We felt it was important to formalise as a group to make our intention of only conducting business for the benefit of the community binding. People look forward to the day Tis the Future is going to stop in their village. It has brought a bit of joy and laughter at a time when everyone is feeling flat and 'lock-down-y'. We feel this is just the beginning of our journey".