Ruth McAreavey and Adrian Smith have joined the Plunkett Foundation board of trustees at a really critical time, as Plunkett prepares to launch a new 5 year strategy for the Foundation later in the year.
Both trustees bring a wealth of experience and relevant expertise to the board, as well as a deep understanding of the challenges facing rural communities UK.
Ruth McAreavey is a Reader in Sociology and an Associate of the Centre for Rural Economy, both at Newcastle University. She has less direct experience of community businesses, but grew up on a farm in County Armagh (Northern Ireland), and has been working with rural communities for over twenty years with a very deep appreciation of their needs.
Adrian Smith has had a business career in Financial Services wholly focused on addressing societal issues across the UK, and is currently CEO of Reclaim Ltd – the organisation responsible for managing the dormant assets scheme, and distributing over £800M to causes such as National Lottery. Adrian is passionate about rural communities and plays an active role in community activities locally including having been a Parish Councillor for 8 years and being the founder and Secretary of the Winterbourne Bassett community pub in Wiltshire.
Ruth and Adrian were co-opted on to the board in December and as part of their induction have made their first visit to the Plunkett offices, in Oxfordshire to meet with Stephen Nicol, Chair of Trustees and James Alcock, Chief Executive. As well receiving a comprehensive briefing on the current work being completed by Plunkett and that of our membership UK wide, they also had the opportunity to meet with staff and members of the Senior Management Team.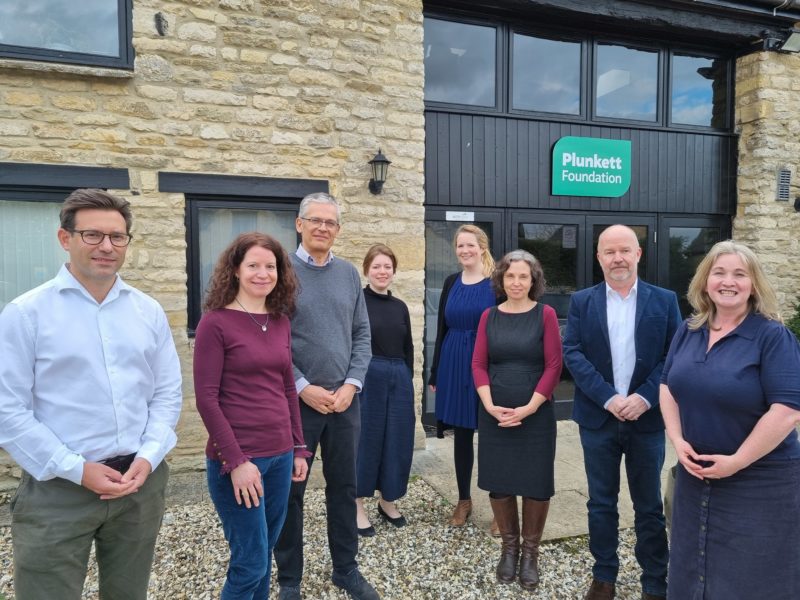 Stephen Nicol (chair) and James Alcock (CEO) welcome Ruth and Adrian to the Plunkett Foundation offices. Also in the picture are Diane Cameron, Hannah Barrett, Georgina Edwards and Liz Woznicki.
"We are delighted to welcome Ruth and Adrian to the board. At a time when community-ownership of businesses and services is more relevant than ever; in response to the pandemic, in battling the cost-of-living crisis and in terms of carbon reduction, it is important that we have access to the right expertise to guide our future work. Ruth and Adrian's expertise will be of great benefit to Plunkett Foundation, our membership and to the wider community business movement also." – James Alcock, CEO