If you work in the food & drink industry, here's why the UK Food & Drinks Shows could be for you!
What are the UK Food & Drink Shows?
Plunkett is a proud supporter of the UK Food & Drink Shows, which comprises Farm Shop & Deli Show, National Convenience Show, Food & Drink Expo and Foodex Manufacturing Solutions. Bringing together the very best of the hospitality, manufacturing and grocery, speciality & convenience retail sectors, the UK Food & Drink Shows take place at the NEC Birmingham from 24-26 April 2023.
This is a perfect opportunity for community businesses to meet with industry professionals and engage with debates about key industry themes, alongside masterclasses and panel discussions. If you are a community business and would like to meet up at the event, please get in touch!
Free to register, your trade pass will provide access to all four shows under one roof!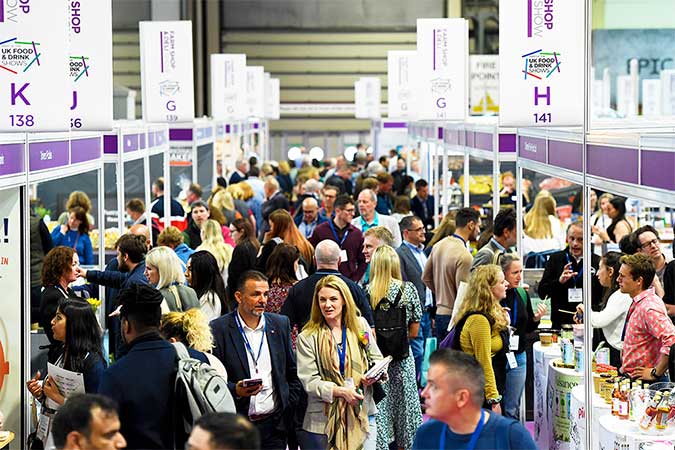 Antonia Green, Exhibitions Marketing Manager at William Reed, shares her excitement for the shows in April: "What is so great about these shows is that no matter how large or small your business is, there's something for everyone on our buzzing show floor. Industry professionals come together to explore the latest industry trends, make valuable connections and discover new products. There's such great value for individuals and businesses from attending these fantastic shows!"
Why specialist retailers should visit the Farm Shop & Deli Show
We bring together hundreds of speciality suppliers to celebrate the best of British regional and local produce, plus the latest in equipment, labelling and packaging solutions. This show is an unrivalled opportunity for you to discover and sample products from new and established suppliers and get face-to-face with those driving the speciality market forward in 2023!
For more information regarding the Farm Shop & Deli Show, and to register free, click here.
Are you a convenience or forecourt retailer?
Then we have THE show for you. At National Convenience Show, you can see, sample and source the c-store-specific products and services that will give your site the retail edge. On The Retailer Hub, our 2023 show will also tackle key industry issues, such as crime, political engagement, sustainability, food-to-go and social media.
Find out more about National Convenience Show and register free here
Who should visit Food & Drink Expo?
Food & Drink Expo has been the flagship event for retail, wholesale and foodservice audiences focusing on finished products, and in 2023 the show returns, ready to tackle the key challenges affecting these sectors. This show will provide a cutting-edge content programme, informed by our own specialist journalists and experts, hosted on The Grocer Live stage. High-profile keynote speakers will debate key industry themes, alongside masterclasses and panel discussions. Insights from MCA and Lumina Intelligence will also offer you the latest insight into the food and drink industry.
Find out more about Food & Drink Expo and register free here.
Buyers and decision makers across the whole industry, from grocery, wholesale and speciality retail to foodservice and manufacturing, are invited to come along and uncover the hottest trends, latest product launches and the industry's vision for the future all under one roof – we can't wait to see you there, 24th – 26th April!