Plunkett Foundation's Community Business Manager, Alison Macklin, shares her advice regarding wellbeing in light of Coronavirus.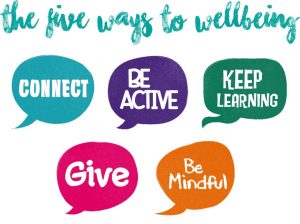 It is vital that we look after the wellbeing of ourselves and others at all times, and with the current uncertainty and added stress to our daily lives we need to make sure that we are looking after our physical and mental health more than ever. Coronavirus has introduced new stress and anxiety to our work and home lives, and community businesses have had to quickly adapt. Changes can be scary; whether you are setting up a new service such as a delivery system, worrying about social distancing in a small space, overworking due to staff or volunteer shortages, or are frustrated by a lack of information. Communication, planning and sharing the strain are important steps in reducing stress at work.
Communication is key
Ensure lines of communication are open between committee, staff and volunteers. Be aware of individual's personal situations, and make sure that concerns are listened to and responded to quickly. Make sure to contact people that are working or self-isolating, and direct them to places that could help where necessary. Make sure that new information and guidelines are shared, made visible and adhered to by staff and volunteers, as well as customers where applicable.
Share the load
Divide tasks into manageable chunks and share out, with non-essential tasks being delegated to avoid strain on one person. Some tasks might be able to be done at home, and those who cannot be on the premises could be assigned new roles such as researching and applying for grants, writing and circulating updates and newsletters, and keeping in touch with the community and those who are self-isolating, vulnerable or lonely.
Plan for possible changes
It is important to have an up-to-date written contingency plan that will prepare your community business for emergency situations, and will provide security and reassurance. This plan should include:
A cashflow forecast
A list of important contacts
Clearly defined and allocated responsibilities for committee members, staff and volunteers. This should also include how people's roles will be covered and in light of them being unable to work due to illness or other reasons.
Important information such as details regarding your bank account, suppliers, utilities, insurance etc.
Focus on your own wellbeing
Be kind to yourself. Nobody is perfect and we all make mistakes, especially when we are upset or stressed. Trying to create a daily routine will break up the day and make it more manageable – incorporate exercise where possible, eating healthy food (don't forget treats too) and try to get a good night's sleep. Connect with others, both colleagues and friends, using Zoom, Skype or your phone. You may want to limit your exposure to the news, and ensure that you are aware of fake news and reliability of sources. Seek out support if you need it.
Useful resources:
Mind UK – Coronavirus and your wellbeing
Gov UK – Five ways to mental wellbeing 
NHS UK – Improve mental wellbeing
Mental Health UK – Covid-19 and your mental health
Business in the Community: The Prince's Responsible Business Network – wellbeing toolkit for employers