Broad Chalke's community-run Chalke Valley Stores and its United Reformed Church chapel work together to support their rural community
Plunkett's Project Manager, Susie Middleton, visited the thriving community shop & café located within Broad Chalke's central, and magnificent, United Reformed Church.
Broad Chalke is a rural village of 700 people, a short distance to the west of Salisbury in Wiltshire. It sits at the meeting of two chalk rivers and amongst an Area of Outstanding Natural Beauty – The West Wiltshire Downs and Cranbourne Chase.
The signs at the front of Broad Chalke's United Reformed Church indicate that as well as an active church there is a shop and cafe inside. A steady stream of villagers from pensioners to parents with young children filed in and out of the vestibule's glass door, emerging with loaves of bread, a newspaper, eggs or a bag of apples. Many stood outside to chat, catch up or pass the time of day and as I entered the building Tony Patel, the shop manager, was on his way to deliver some groceries to a local resident.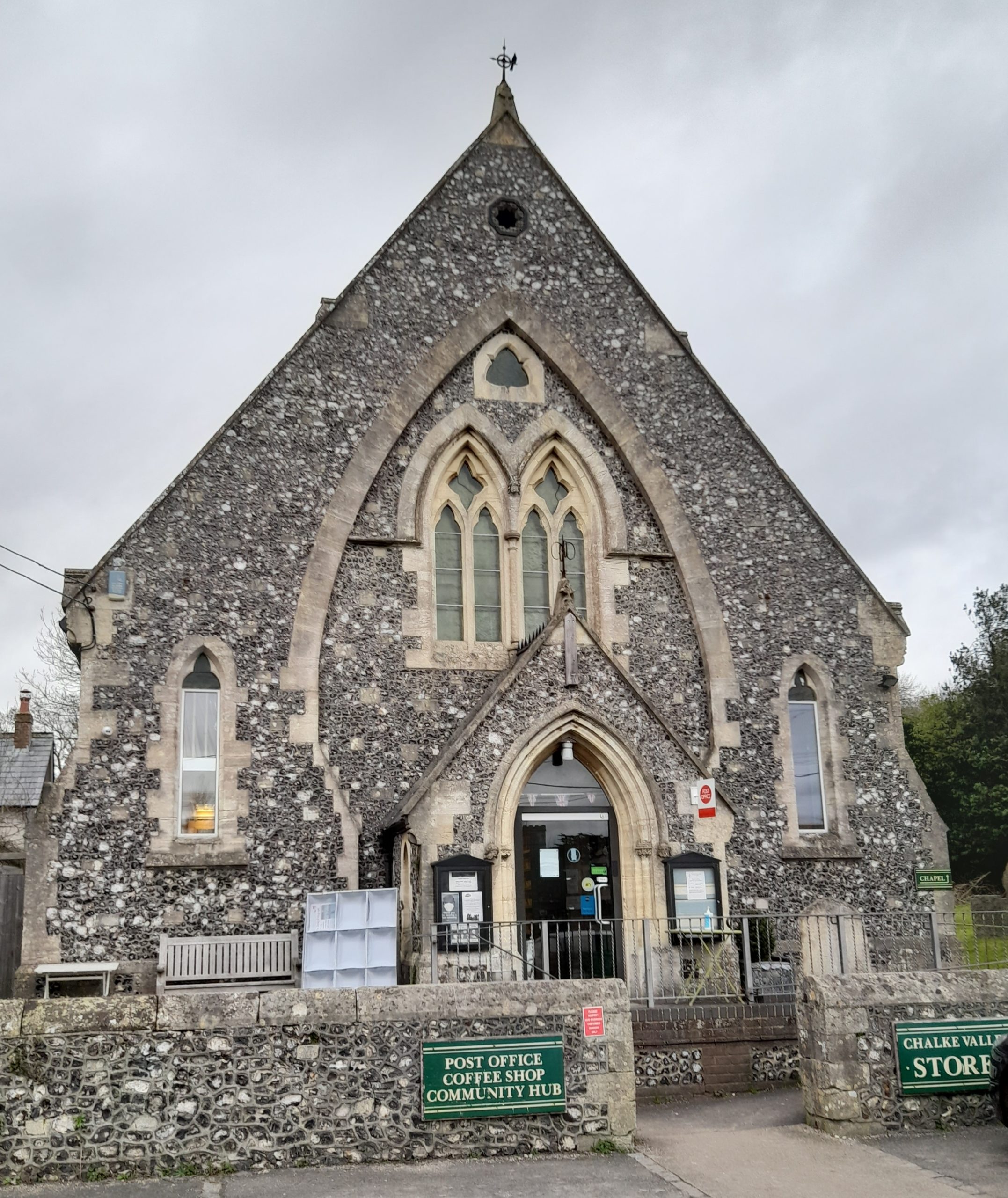 The shop is busy, with a short queue for the post office and the volunteer behind the counter ensuring everyone was served quickly. It takes deliveries of fresh food daily and caters for the whole community with a range of goods from baked beans to smoked salmon. Its greetings cards are the work of a local artist and one portion of the shop offers refills of household products from washing up liquid to hand sanitiser. Customers perform a carefully choreographed dance around each other to pick up what they've come in for, many taking the opportunity to catch up with each other. As Reverend Jackie Lowe, Broad Chalke's United Reform Church minister, said: "There are no larders for the elderly of Broad Chalke anymore, if they run out of butter they'll just pop in, pick some more up and have a good chat".
Beyond the shop is the cafe which is buzzing. Word of Jayne's cakes, sandwiches and casseroles has clearly travelled far as not only were tables full of local residents but cycling groups from as far as Bristol have started to include the cafe on their routes.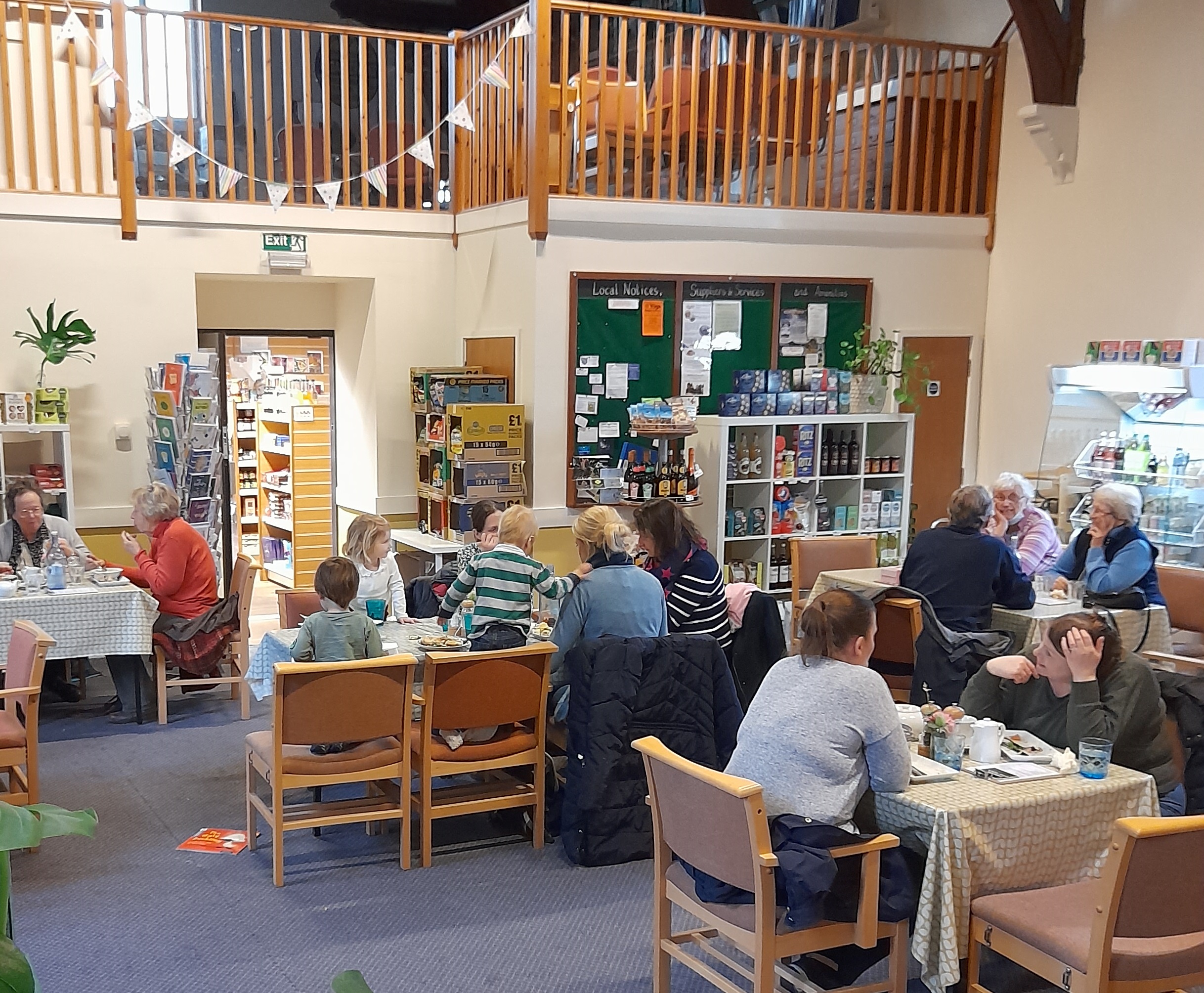 As Tony explained: "On Saturday afternoon the cafe volunteers prepare the room for Sunday worship and following that the congregation set it up for opening on Monday morning. This is a place of partnership. Upstairs on the mezzanine, above the shop, is a meeting place which local churches use to come together whilst the vicar of Broad Chalke's Anglican church also regularly volunteers in the shop. Such is the draw of the community shop and cafe that the church congregation has gradually increased from 4 to 21.
The impact of the community business stretches far. Not only is it clearly reducing the isolation and loneliness felt by so many in rural communities when faced with the closure of shops and the end of bus services but popular events such as wine and cheese nights or 'Call My Bluff' style quiz evenings held in the café area have enabled them to send food vouchers to local families facing hard times. The local knitting group meets in the café area, bringing more members of the community together. They regularly donate what they can to charity whilst further afield its supporters have sent money to a charity supporting Afghan refugees, among other good causes.
What Chalke Valley Stores has achieved in terms of addressing the needs of its community and securing the future of Broad Chalke's United Reformed Church is truly inspiring. As we left Tony he told us about the preparations underway for two local awards ceremonies where the community business has been nominated for awards in recognition of its continued good work. We'll certainly have our fingers crossed for them.
aaaa