Celebrating the UK's Best Community-owned Businesses
Twenty-four community-owned businesses from across the UK have been shortlisted for this year's prestigious Rural Community Business Awards. From a small island shop, a country market, rare-breed farm to a host of much-loved, thriving community pubs – a wide range of community-owned businesses have been recognised for going that extra mile to help their communities.
Held annually by the Plunkett Foundation, the Rural Community Business Awards recognise the dedication and success of all types of community-owned businesses and hope to inspire other communities to take ownership of the businesses essential to them. This year's Awards are supported by headline sponsor North Barnes Farm in partnership with Welbeck Land and Eton College.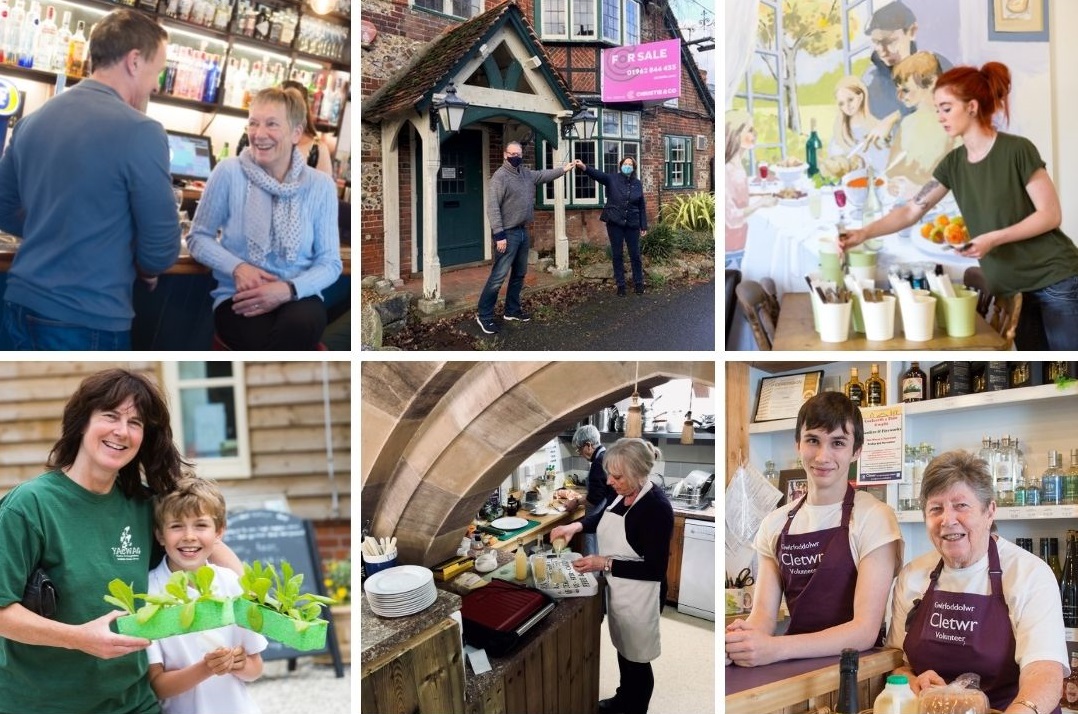 Across the UK a growing movement of 800 community-owned businesses are creating resilient, thriving and inclusive rural towns and villages. Whether a shop, farm, bakery, woodland or pub – their services help tackle rural issues of isolation, loneliness, access to essential goods, provide jobs and training, help the environment and create amazing opportunities to bring people together to improve the wellbeing of all.
Each of the short-listed community businesses or volunteers have been chosen in recognition of the contribution they make to their local communities:
i) Community Food & Local Supply Award sponsored by Suma Wholefoods
Woodhouse Farm and Garden CIC, Lichfield, Staffordshire
Canna Community Shop, Isle of Canna, Inner Hebrides, Scotland
Seaview Community Shop, Isle of Wight
ii) Employment Award sponsored by Adnams
Westbury Community Shop, Westbury, Buckinghamshire
Wye Community Farm, Wye, Kent
Barford Community Shop, Barford, Warwickshire
iii) Environment Award sponsored by Power to Change
Farmborough Community Shop, Farmborough, Somerset
Hampstead Norreys Community Shop and Café, Hampstead Norreys, Berkshire
The Blue Bell, Stoke Ferry, Norfolk
iii) Inclusivity Award sponsored by Co-op
Islip Village Shop, Kidlington, Oxfordshire
Woodhouse Farm and Garden CIC, Lichfield, Staffordshire
Eynsham Country Markets, Eynsham, Oxfordshire
iv) Technology Award sponsored by Anthony Collins
Menter Ty'n Llan, Caernarfon, North Wales
The Bank – Chopwell Regeneration CIO, Chopwell, Tyne & Wear
The White Swan, Gressenhall, Norfolk
v) Volunteering Award sponsored by Allied Westminster
The Bank – Chopwell Regeneration CIO, Chopwell, Tyne & Wear
The Lion Corner Shop, Langenhoe, Colchester, Essex
Rocklands Community Shop, Rockland All Saints, Norfolk
vi) Community Contribution Award sponsored by Thakeham
Lucy Turner from The New Inn, Halse, Somerset
David Leader from The White Lion, Broadwindsor, Dorset – this is a posthumous nomination as David sadly passed away earlier this year
David Rushton from The Auctioneer Arms, Caverswall, Staffordshire
vii) Young Person Award sponsored by Abri
Emily Thompson from The Bank, Chopwell, Tyne & Wear
Carly Abbott from The Swan at Clewer, Windsor, Berkshire
Joe Mitchell from The Locks, Geldeston, Norfolk
Finalists in the Community Contribution and Young Person awards will go forward to a public vote to decide the award winner. The votes will take place between 31st October and 4th November and can be registered on our Awards page here.
All the winners will be celebrated with the support of TV presenter and auctioneer Charlie Ross, who will host a formal ceremony on 17 November 2022. Each winner will receive a trophy and an award of £250.
James Alcock, Chief Executive at Plunkett Foundation, said: "All of the finalists are 'local heroes' their work and the businesses they represent improve the lives of all those in their local communities. Alongside their essential service they provide a lifeline to those most in need – the isolated, the elderly, people on low incomes and those seeking local employment or training."
Community businesses are businesses that are owned and run by their community for their communities, their primary purpose is to provide vital services on which people depend, such as access to food and essential goods, cash and postal services, health-related services and social meeting spaces. The awards celebrate the unique contributions these community businesses make, creating resilient, thriving and inclusive rural communities.
To vote for the finalists in the Community Contribution and Young Person awards (between 31st October and 4th November) visit our award's page:  Rural Community Business Awards.