James Alcock, Chief Executive reflects on the Future Countryside event held at Hatfield House
I was honoured to represent our members at the Future Countryside conference held at Hatfield House earlier this week, co-chaired by rural champions Nick Herbert and Julian Glover. The event had keynote speeches from political leaders including Rory Stewart, Therese Coffey, Peter Mandelson and Daniel Zeichner.
Attended by over 200 equally impressive experts on the rural economy, environment and community space – it was an inspiring and thought provoking day.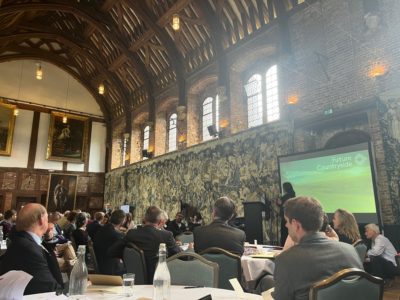 Unleashing rural opportunity
As part of the agenda, the Secretary of State for Environment, Food and Rural Affairs announced a series of measures as part of the Government's 'unleashing rural opportunity' plan. A key pledge was a £7m fund to boost digital connectivity, and there was also a commitment to review how deprivation is measured in rural areas. There were no specific announcements relating to community ownership, although the existing £150m Community Ownership Fund was referenced in the Ministers speech, including a reference to the remarkable journey of The Travellers Rest community pub, which was opened last month by PM Rishi Sunak. Whilst the announcement wasn't everything I or Plunkett were hoping to hear, there was at least a continued commitment to 'rural proof' decision making within Westminster.
What was more encouraging, was the recognition from all sectors within the room that in order to thrive, the countryside needs to be a more inclusive and accessible place for everyone to live, work and visit. This chimes with the work Plunkett is undertaking on 'Equity, Diversity and Inclusion' and our ambition to work with rural community businesses to help them play an even greater role in making the countryside a more diverse and inclusive space. We will shortly be releasing our statement on ED&I and our action plan which includes our commitments to how Plunkett operates internally and with our partners and across the membership.
Growing the community business movement
Finally, and in response to one of the key questions asked at the conference: what would make the countryside a better place to live in, work in, invest in, and to enjoy: quite simply, the answer is – more community businesses! Plunkett now represents a growing movement of 750+ community owned businesses, each of which are safeguarding critical services which people depend on and which would not exist commercially, were it not for the community stepping up to provide them. Additionally, once established, these are businesses which are:
Stimulating the local economy through localised supply chains
Creating access to employment and training and volunteering opportunities, often supporting people who are excluded from the labour market
Tackling climate change through delivery of environmentally sustainable initiatives
Promoting equality, diversity and inclusion by creating safe and welcoming spaces for all
When asked what was needed to bring this about, and what role government can play, the answer is simple – no short term, vote winning initiatives, but instead a long term commitment to raising awareness of the community business model; sustained investment in business support; and a listening ear to understand what legislation is restricting or enables community businesses to thrive.
In summary, this was an exceptional and extraordinary event which brought a diversity of people and views together in one room. What brought us together was our passion and commitment to a thriving rural countryside. My sincere thanks to all those who brought this conference together, and everyone who took part.
#FutureCountryside
Facing the Future Together
If you are interested in finding out more about the community business movement, then why not come along to the only conference for community businesses from across the UK, happening in Birmingham on Thursday 6 July?
If you want to join the Plunkett team in Birmingham, we're running our first face to face conference in 4 years. We're really excited about the programme and look forward to welcoming supporters from across the community business movement. You can read the agenda and book your tickets via this link.